New Weed PSAs Mocks Maureen Dowd's Inability to Consume Marijuana Responsibly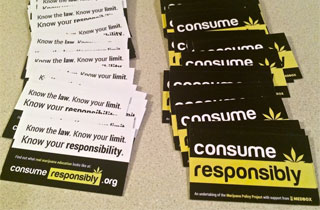 The Time That Maureen Dowd Ate Too Much Weed shall go down as one of the most ridiculous moments in the history of marijuana legalization, but it did raise a point: much like alcohol, consumers should know how to consume edibles responsibly.
The Marijuana Policy Project today launched a $75,000 campaign in Denver, Co. to educate tourists on how to handle their weed-infused candies, cookies, and other potential edibles, to avoid the same fate as Dowd.
And, really, the campaign is in direct response to Dowd's column. In a statement to the Washington Post, communications director Mason Tvert name-checks Dowd in describing their efforts to combat "exaggeration, fear mongering, and condescension" in the media. "Like most Americans, Ms. Dowd has probably seen countless silly anti-marijuana ads on TV, but she has never seen one that highlights the need to 'start low and go slow' when choosing to consume marijuana edibles."
Back in June, Dowd, a novice to marijuana, published a widely-mocked column in the New York Times describing how she'd quickly consumed half a candy bar alone in her hotel room and proceeded to go on a paranoid, hallucinatory trip. "I became convinced that I had died and no one was telling me," she wrote, to the dismay of everyone who's actually ever consumed marijuana.
Don't tell us that this billboard isn't evocative of that moment:

UPDATE (5:42 PM EST): Dowd tells US News that she's actually very flattered to be the face of edibles safety. "I love it. I'm going to make it my Christmas card," she said. "And I'm glad Colorado and Washington state implemented emergency rules for better warnings and portion control for edibles. They needed some fine-tuning for tyros."
[The Washington Post]
[Image via ConsumeResponsibly.org]
—
>> Follow Tina Nguyen (@Tina_Nguyen) on Twitter
Have a tip we should know? tips@mediaite.com