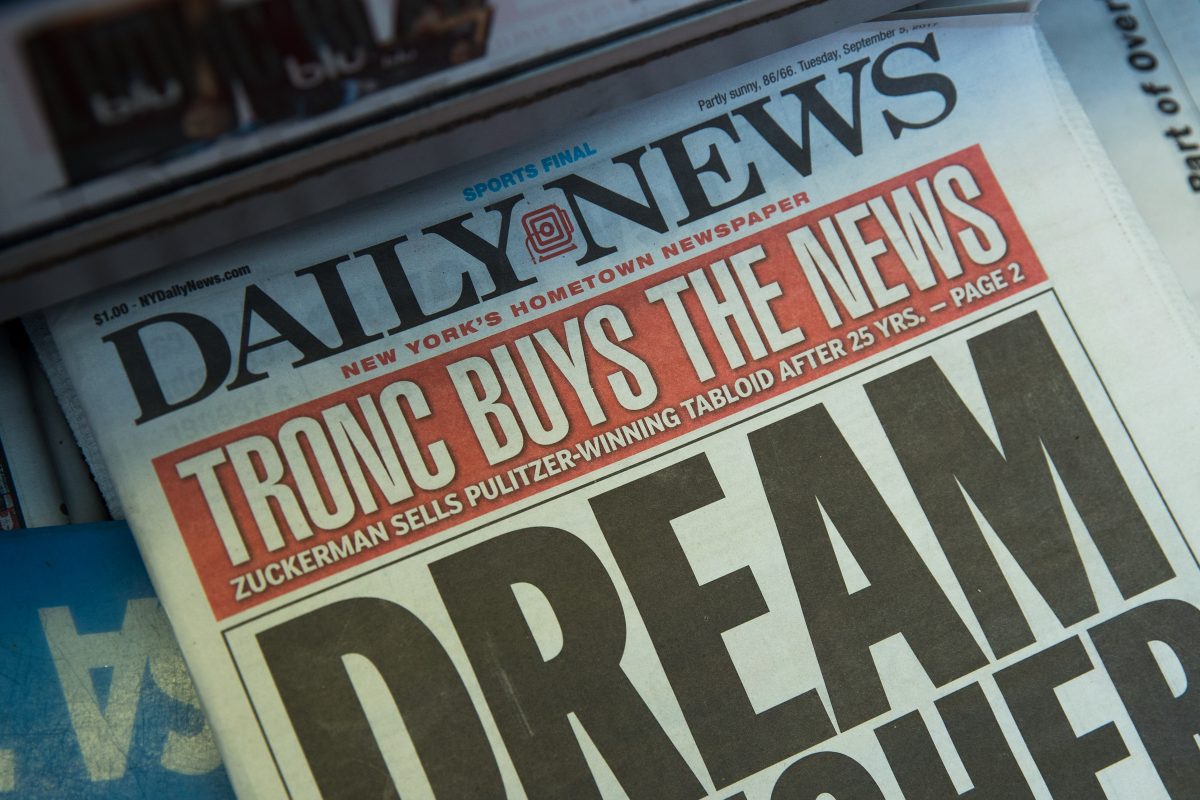 The New York Daily News entered into its latest — and bloodiest — round of layoffs Monday morning, with an email sent to staff announcing roughly half the newsroom would be laid off, including crusading editor-in-chief Jim Rich.
An unsigned email sent to employees, obtained by Mediaite, announced the steep cuts. The email was sent out following a brief meeting in the paper's Manhattan newsroom during which the layoffs were previewed.
"We are reducing today the size of the editorial team by approximately 50 percent and re-focusing much of our talent on breaking news – especially in areas of crime, civil justice and public responsibility," the email read.
The email announced that EIC Jim Rich and and Managing Editor Kristen Lee would be leaving as a result of the cuts, with Robert York — publisher and editor of Pennsylvania's Morning Call newspaper — joining as the new editor-in-chief.
Employees ousted by the cuts will receive pay for 90 days, the email said.
Since Tronc — the mess of a media company that owns the Baltimore Sun and Chicago Tribune, amongst other papers — bought the Daily News in September 2017 from media mogul Mort Zuckerman for a reported $1, it has weighed what to do with the struggling tabloid.
It apparently decided pushing the paper into digital is the way forward. In a very Tronc-ian flourish, the email sent to staff declared "we've worked hard to transform the New York Daily News into a truly digitally-focused enterprise."
Rich — who worked as editor-in-chief of the paper for a year before leaving in 2017 to serve as executive editor of HuffPost, only to return  to the News in January — issued a tweet early Monday morning in anticipation of the cuts:
If you hate democracy and think local governments should operate unchecked and in the dark, then today is a good day for you.

— Jim Rich (@therealjimrich) July 23, 2018
While nationally the paper has recently been known for its piercing front covers taking aim at President Donald Trump, the Daily News has long been a vital pillar of local journalism in New York. Sarah Riley's reporting on New York's obscure nuisance abatement laws — which were being used by police to evict poor New Yorkers from their homes without convicting them of crimes — earned the paper a Pulitzer Prize in 2017.
New York Governor Andrew Cuomo responded to news of the layoffs by offering assistance to the Daily News, and urging Tronc to "reconsider" the move to "avert this disaster."
Gov. Cuomo pledging state help — $$, presumably, though he doesn't say — for the Daily News as it cuts 50% of its editorial staff. pic.twitter.com/iHwwcT72E9

— Jon Campbell (@JonCampbellGAN) July 23, 2018
[Photo by Drew Angerer/Getty Images]
—
Follow Aidan McLaughlin (@aidnmclaughlin) on Twitter
Have a tip we should know? tips@mediaite.com
Aidan McLaughlin - Editor in Chief