New York's Profile On Sandra Lee Reveals So Much… Including The Story Behind Her Infamous Kwanzaa Cake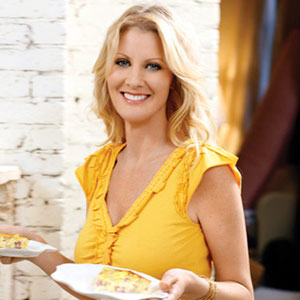 We're not done with Food Network celebrity news this week, folks! New York magazine published a revealing look at Sandra Lee, host of Semi-Homemade, among other shows, and one of the network's most controversial stars. (She's enjoyed amazing success thanks to a large fan following, but a quick search through YouTube and various blogs reveals that she has also managed to inspire her share of haters and critics.)
Like any good profile, New York's piece on Lee isn't exactly flattering, nor is it especially damning – rather, it succeeds in providing a glimpse at how the semi-homemade sausage is made (Chortle!), and how Lee functions not only as a person, but as a profitable brand. In that spirit, let's break down a few things we've gathered about Lee:
She knows how to work the media.
When Lee attempts asks a representative from Tyson (you know, the chicken people) to up its food bank donation of meat from 10,000 to 30,000 pounds per bank, she makes sure the New York writer is on hand as a witness.
It was her choice not to campaign for her boyfriend, Andrew Cuomo.
Cuomo told Lee she could participate in his campaign efforts as much or as little as she was comfortable with – and she decided she was pretty comfortable with letting him have his own limelight, without her fame possibly overshadowing his.
She's made the most out of a fairly harrowing upbringing.
While Lee may seem eternally sunny and peppy while creating aquarium-themed tablescapes or Hypnotiq-infused cocktails on her show, her childhood was marked by poverty, hunger and abuse both physical and sexual. She became a provider for her four younger siblings at a young age in between dealing with a pill-popping mother, warding off the advances of her step-father, and testifying against her birth father after witnessing him raping his much younger girlfriend.
She's an inventor.
By the time she was 27, her "Kurtain Kraft" DIY window treatment had raked in $6 million.
She can wreck a home as soon as decorate it.
Ahem:
As a comely, preternaturally contoured self-made millionaire living in Los Angeles, Lee had little trouble attracting romantic attention. According to people who knew her well at the time, she took a particular interest in men who were already attached. "She felt that if a man could be had, then he wasn't committed," says an acquaintance, who adds that Lee said more than once, likely as a joke, that she planned to write a book about how to steal a married man, an account Lee calls preposterous. By 1999, Lee had become a spokesperson for KB Home, as well as romantically involved with its CEO, Bruce Karatz, who was 21 years her senior. Karatz's marriage subsequently dissolved, and by 2001, Lee had converted to Judaism and married Karatz at Ron Burkle's estate in Beverly Hills.
She's pals with Arianna Huffington
Those who have worked with Lee have fairly mixed memories of the experience.
While some have called the extremely ambitious Lee "easy to work with," others have noted that she's less-than-amiable with those she considers beneath her. Take, for instance, the food stylist who hoped her work developing recipes for Lee would lead to styling work, only to be told the following: "Honey, I want to fuck you; I don't know if I want to put a ring on your finger." (Lee, for the record, denies ever saying this. Which doesn't mean we're not going to try and work it into conversation for ourselves.)
Even Lee concedes that her now infamous Kwanzaa cake was a complete and utter embarrassment.
It turns out that this very same food stylist – Denise Vivaldo – is also to blame for the notorious Kwanzaa cake Lee prepared during a holiday episode. For those who have yet to experience the unbelievable mixture of glee and horror that comes from watching her assemble this mostly pre-packaged monstrosity, here's the video:
Lee blames the inclusion of Vivaldi's truly curious concoction in the episode on the network, which used to have more control over what appeared on Lee's show.
No word on whether the Powers That Be at Food Network had anything to do with this super simple dish, though.
For more, read the full story in New York magazine.
Have a tip we should know? tips@mediaite.com