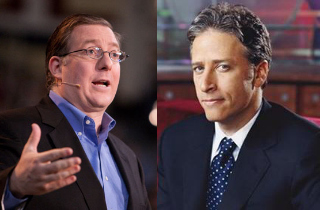 While most other people squabble over whether or not a lack of gun control caused the horrific shootings last week in Newtown, Conn., several religious conservatives have taken to blaming "secular culture" and the removal of God from the schools. New York Times best-selling evangelical author Joel C. Rosenberg took that argument and pointed a few fingers at specific media figures, most notably Jon Stewart.
In a blog post titled, "Implosion update: The demons of violence are on the loose in America. But why? And where do we go from here?" Rosenberg made the case that Stewart and The Daily Show have contributed to causing the mass shooting because they've waged a "cultural war against Jesus and Christmas" as part of a greater effort to "drive [God] out of our society."
"The demons of violence and lawlessness are the loose all across America — in Newtown, Connecticut….in Aurora, Colorado….in Oak Creek, Wisconsin….just as they were in Littleton, Colorado and at Virginia Tech in years gone by. But why?" he asked.
The answer:
"[T]he further we turn away from God in our nation — the further we drive Him out of our society, our of our schools and courts, and out of our media and out of our homes, or the more we give mere lip service to religion, the more men are 'holding to a form of godliness, although they have denied its power' (2 Timothy 3:5) — the worse things are getting."
For specific examples, he pointed to the "cultural war against Jesus and Christmas," citing specific news stories about atheists fighting against public Christmas displays, a rapper saying "Gangbanger Jesus," and… the fact that Jon Stewart "wages war on Christmas and mocks those who thinks he's wrong."
And then, echoing the sentiments of fellow evangelical Bryan Fischer, Rosenberg added that God is a "gentleman" who does not help people where he is not wanted:
"The Lord God Almighty is a gentleman. He won't force us to accept His great love and many blessings. If a nation tells Him to leave, He will leave. But what are we reaping as a result of a society that increasingly ignores God and hates or dismisses Jesus Christ? We are witnessing a horrifying explosion of murder."
[h/t Right Wing Watch]
— —
>> Follow Andrew Kirell (@AndrewKirell) on Twitter
Have a tip we should know? tips@mediaite.com