Tea Party Chairman Arrested in Connection to Illegal Photographs of Senator's Wife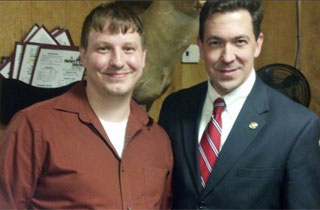 Last week, Clayton Kelly, a political blogger in Mississippi, was arrested for allegedly breaking into a nursing home to get pictures of Rose Cochran to use in a political attack video against her husband, Sen. Thad Cochran (R-MS).
However, three new arrests made today hint at a grander conspiracy: The Clarion-Ledger reports that Mark Mayfield, a vice chairman of Mississippi's Tea Party, was also arrested in connection with the photographing of Mrs. Cochran, who suffers from advanced dementia and is bedridden (authorities haven't released the name of the other suspects). Both Mayfield and Kelly are vocal supporters of Cochran's Tea Party challenger, State Senator Chris McDaniel.
Though charges have not yet been announced against Mayfield, Kelly himself faces felony charges of up to ten years for "photographing or filming another without permission where there is expectation of privacy and exploitation of a vulnerable adult." At Slate, Dave Weigel speculated that Kelly was trying to push rumors that Cochran was having an affair, and attempted to get photos of Rose's physical state to prove how bedridden she was. "Pointing out that a candidate's wife is bedridden is more likely to induce sympathy for the candidate than anything else," he noted dryly. Kelly's wife has claimed that an anonymous source sent her husband the address to Mrs. Cochran's nursing home and encouraged him to pursue the story.
The race between McDaniel and Cochran, already furious, went ugly when news of Kelly's actions broke. Cochran's campaign openly questioned discrepancies between the timeline of the story breaking, and statements made by McDaniel's team. While they eventually released a timeline that made sense, the news of an actual political organization's involvement will certainly bring more scrutiny to their claims that they had nothing to do with it.
UPDATE (3:00 p.m. EST): The name of the second man arrested today has been released. Richard Sager, an elementary school P.E. teacher from Laurel, MS, faces one charge of conspiracy and one charge of tampering with evidence. Mayfield and Kelly are also charged with conspiracy. It's unknown how Sager is connected with either Mayfield or Kelly.
[h/t TPM]
[Image via Clayton Kelly/Facebook]
— —
>> Follow Tina Nguyen (@Tina_Nguyen) on Twitter
Have a tip we should know? tips@mediaite.com