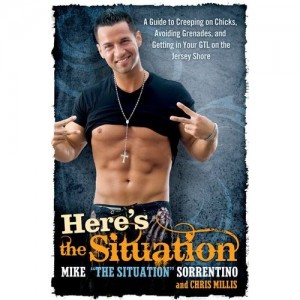 Just in time for the holiday shopping season, Gotham has released the perfect stocking stuffer: Here's the Situation: A Guide to Creeping on Chicks, Avoiding Grenades, and Getting in Your GTL on the Jersey Shore.
That title really says it all, doesn't it? If you really need more information, though, here's part of the product description from Amazon:
This book here will take your game to a level thought unattainable, given your physical limitations (because we can't all look like Rambo, pretty much, with our shirt off). We start with GTL-the bedrock of life itself. And then we hit the GTL Remix-the rules for getting your personal grooming did. From there it's my guide to the Jersey Shore, battle plans for the club, a primer on grenades and wingmen, and tips for ridding yourself of all levels of clinger. Then I look at the big picture: how to cook the perfect lasagna, how to find a life partner, and how to deal with being one of the most famous people on the planet-which is guaranteed if you follow my advice.
Though the description is written in the first person, Sorrentino obviously didn't actually compose this masterpiece himself. His ghostwriter, Chris Millis, is also "collaborating on a variety of writing projects" with Rob Schneider, which should give you some idea of his sense of humor.
Shockingly enough, writes Nathan Rabin at The A.V. Club, Here's The Situation isn't nearly as fun as it wants to be. "Here's The Situation ostensibly illustrates that its 'author has a sense of humor about himself by indulging in ridiculous hyperbole," he says. In reality, though, "it feels smug and obnoxious instead of cheeky and irreverent." No matter—the book's still in the top ten of two Amazon bestseller lists. Fist pump time!
Have a tip we should know? [email protected]