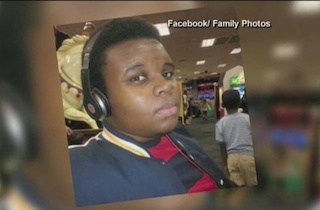 The Associated Press Stylebook states that in reports referring to a person's age, the figure for the age number should be used. It also states that reports should "use man or woman for individuals 18 and older."
Why, then, are AP reports on the shooting of 18-year-old Michael Brown solely referring to him as a "teen" and "teenager"?
"Don't know' if Missouri teen shot with hands up," reads one AP headline from Monday. "County autopsy: Unarmed teen shot 6 to 8 times," reads another.
And an excerpt from yet another AP story, emphasis added: "Missouri Gov. Jay Nixon lifted a curfew but ordered the National Guard to step in to help restore order. Holder over the weekend ordered a federal medical examiner to perform a third autopsy on the teenager, Michael Brown."
What's happening here?
One possibility: Referring to Brown as a "teen" and "teenager" harkens back to Trayvon Martin, the 17-year-old black Florida teen who was also shot dead while unarmed. Like Brown's shooting, that was an emotionally and racially charged event, which the media pored over for months.
Have the emotional similarities moved the AP to disregard its own guidelines?
We've requested comment from the AP.
UPDATE — 10:28 p.m. ET: Two of the AP stories referenced in this post were modified after this post published. One report changed the word "teen" in its headline to call Brown by his last name. The second removed the word "teen" from the body text and put "man" in its place. Neither report has an update on them with a reason for the alteration. Other reports still refer to Brown as a "teen." We've once again requested comment from AP spokesman Paul Colford, who one other media reporter told us is "usually prompt" at returning media requests.
[Image via WBAL-TV]
— —
>> Follow Eddie Scarry (@eScarry) on Twitter
Have a tip we should know? tips@mediaite.com