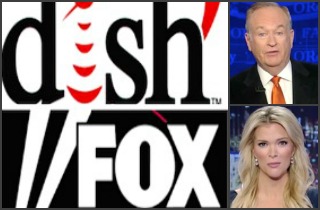 When the final gun sounded and scores are tallied up in the dispute between Dish Network and Fox, the only conclusion that can be made is that Dish…got served.
As you may have heard, the highly-publicized dispute between the cable news juggernaut and the second largest satellite provider that began on December 20th and ended yesterday was a heated one. Dish accused Fox of extortion. Fox–via its biggest names on Fox News in the form of Bill O'Reilly and Megyn Kelly–said in a YouTube video that Dish was censoring important news.
"They're censoring what you see," said O'Reilly.
"Thirteen years at No. 1, now Dish doesn't want you to have Fox?" Kelly asks incredulously. "Get back The Factor. Get back The Kelly File."
In the end, according to the Wall Street Journal, Dish has agreed to pay Fox $1.50 per subscriber per month, which is a whopping 50 percent increase from the previous deal of $1.00/per. Dish has reportedly also agreed to place the Fox Business Network next to Fox News in the lower tier service option on its dial, which will help drive more viewers to a channel that could use them. Official terms of the agreement, a five-year-deal, weren't disclosed.
"We thank the viewers of Fox News and Fox Business and Dish customers for their patience throughout this process," Tim Carry, Fox News and Fox Business executive vice president of distribution, and Warren Schlichting, Dish's senior vice president of programming, said in a joint statement.
Of course, Fox didn't get everything it wanted, as it reportedly sought to bundle in Fox Sports 1 — which debuted just last year and is still struggling to steal viewers from ESPN — into the deal (although that aspect was never confirmed to part of the deal, as Dish CEO Charlie Ergen claimed in a Christmas Eve video, but Fox never verified). But if it was, Dish appears to have drawn the line there. Note: There's always a few demands that are expendable in negotiations like this, and Fox Sports 1 being bundled in (if Dish completely capitulated) would have fallen into the nice-to-have instead of must-have category. Also note: An increase of 50 percent in subscriber fees is a very big concession in this kind of negotiation–and for Fox to get it is the only score that matters here when judging winners and losers.
So how did Fox win? Simply put, they had the horses in the form of O'Reilly and Kelly, the message ("censorship"), but most of all, passionate viewers of Fox News voting with their wallets — the kind of viewers who execs even at other networks will tell you are the most notoriously loyal of any out there, free or cable.
As reported here, Fox's ratings dipped a bit due to the blackout while still comfortably holding top spot in the cable news race, but Dish (14 million subscribers) reportedly lost tens of thousands of customers (Carry estimated 90,000 at one point) directly due to this dispute, resulting in tens of millions in losses if a majority had a typical package for Dish (paying $99.00-$127.00 per month). When the dust settled, Fox had the luxury of audience devotion and familiar faces on the front lines, while Dish was just another faceless, hated cable provider in the same way Comcast, Time Warner and Cablevision are. And when Dish follows the same route that these other entities have when subscriber fees go way up for a major channel, guess who will be paying for it? Dish customers, of course. And guess who will get the blame? The company with its name on the bill.
Disputes leading to blackouts are the new norm between programming providers and subscription services. In a dispute with DirecTV, The Weather Channel thought it had viewer loyalty as well–and even went so far to say that the satellite provider was putting lives in danger by pulling the channel (because nobody knows how to turn on local news for reports on a storm instead or check a weather app on a smartphone). After three months, the Weather Channel returned, but it caved to DirecTV demands to actually change its content by, according to CNN, agreeing "to reduce reality programming by half on weekdays." In return, TWC got a subscriber fee increase of less than a penny per subscriber. Other disputes lately have involved Dish/CNN/Turner Classics and Dish/CBS, both of which were resolved but not before blackouts also occurred in each instance.
Fox News is back on Dish Network. Fox Business Network will now live next door. Dish claims extortion in negotiations and loses tens of thousands of customers in the process who likely won't be coming back, while Fox walks away with 50 percent more than what it had three weeks ago.
That's what one would call a lopsided victory.
— —
>> Follow Joe Concha @JoeConchaTV
Have a tip we should know? tips@mediaite.com