ABC News Reports Medical Records Support George Zimmerman's Account Of Broken Nose And Scalp Injuries
ABC News: Medical Records Support Zimmerman's Account Of Injuries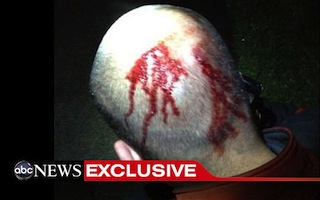 When the tragic story of the shooting death of Trayvon Martin consumed the nation over the past few months, a number of questions were raised about racism, vigilantism, and self defense laws. However, the most important question was always the first one; what exactly happened that fateful night? The shooter, George Zimmerman, has always claimed that he fired his gun in self defense, something many found hard to believe considering the young boy he killed was unarmed. However, tonight, ABC World News broke information about the injuries Zimmerman received that may shed more light on just how that night went down.
RELATED: George Zimmerman May Be Charged With Hate Crime By FBI, Report Says
ABC, who were also first to break the bloodied images of Zimmerman's head that disputed video seemingly showing him unharmed, have now obtained Zimmerman's detailed medical records.
The document describes Zimmerman as having suffered two black eyes, wounds to the back of the head, as well as a broken nose but that he declined both hospitalization after the encounter as well as a follow up with an ENT doctor. The doctor who wrote the document also writes that Zimmerman suffers from stress and "nausea" when thinking about the night and was strongly advised to see a psychologist.
It also states that, prior to the shooting, Zimmerman had been prescribed the drugs Adderall and Temazepam, medication that ABC points out "can cause side effects such as agitation and mood swings, but in fewer than 10 percent of patients."
Of course, none of this proves exactly what the events were that led to Martin's death. But they are important facts to add to this sad, sad story.
Watch the video from ABC News below:
Have a tip we should know? tips@mediaite.com