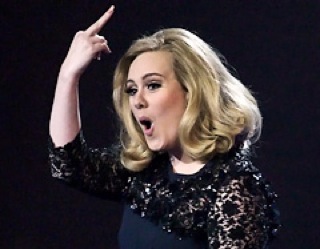 "What is with British singers and giving the middle finger?" someone who has only seen British singers at the Super Bowl and the Brit Awards surely must be saying tonight, as Grammy winner and beloved crooner Adele lifted her finger up before the audience towards the traditional walk-off music that begins to play when you've talked too much after your award. Adele apparently disagreed that her time was up.
RELATED: Watch: Adele Performs 'Rolling In The Deep' At The Grammys
Entertainment Weekly explains the situation:
In an act of defiance against "the suits" who interrupted her acceptance speech for British Album of the Year — and perhaps to show solidarity with Super Bowl pharaoh bitch goddess M.I.A. — Adele flipped the bird to the crowd at tonight's Brit Awards. The 23-year-old, who won six Grammys last week, had also picked up the Brit for Best Female Artist of the Year earlier in the evening.

Adele explained after the awards that the gesture wasn't intended for her fans and that she wished nothing but the best forrrrr youuuuu (as long as you weren't the one responsible for telling host James Corden to cut her off). "I was about to thank the British public for their support and they cut me off, and I'm sorry if I offended anyone," she said. "But the suits offended me, so thank you very much for all of your support."
After talking about her "snot" from crying and thanking people for understanding her "rubbish relationship" during the Grammys, this only makes her more endearing in some bizarre way, no?
Admire Adele's middle finger (and the bizarre design of her Brit award) below:

Have a tip we should know? tips@mediaite.com