All In Finishes Strong With Focus On Media Lies About Social Security Disability Income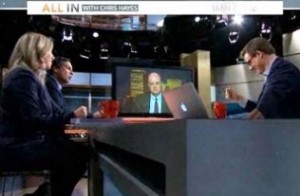 The first week of Chris Hayes' All In concluded Friday with an episode that showcased the new program's potential to do good, and to do well. The panel segments, which are the heavy lifters on All In, struck a fine topical balance, alternating from the below-the-fold district court decision on Plan B emergency contraception, to the President's hot sound bite of the moment, to the below-the-radar but important media campaign to gut Supplemental Security Income for the disabled. As the show got better this week, the ratings got worse, but this is no time for #AllInskys or #Inners to freak out.
In my initial review of All In, I compared the show to a tasting menu that the chef is sure you'll like if you try it. The choice of topics might not be what you would expect to see at 8 pm on cable news, or would even choose, but if you stick around, you'll learn something, or hear something you wouldn't hear elsewhere, and maybe want to learn more. As the week progressed, the chemistry of the panel segments improved, and Hayes was consistently a minute or so late in tossing to Rachel Maddow because they were so engrossed in conversation.
This is the tough sale that All In has to make, that the host and production team know what you'll like better than you do. It's an important, age-old principle of journalism that has become increasingly rare in cable news; that the people are poorly served by simply being given what they want. That's called editorial judgment, and it is what separates a collection of gaffes, car chases, and nip-slips from real journalism. Your success or failure then depends on the quality of your editorial judgment, rather than the ability to sizzle up the same dishes that everyone else is serving. Those stakes are raised when most of your show depends on two or three such judgments.
The first several episodes of All In were perfectly enjoyable when the topics were not of particular interest to me, but Friday's episode paid off with panel discussions that were all of intense interest to me, which could end up being the key to the show's success. Not in whether it piques my interest, but whether All In can keep viewers in orbit by alternately making them care about things they otherwise wouldn't, and occasionally hitting their individual sweet spots.
The first segment was devoted to Federal District Court Judge Edward Korman's decision to overturn the Obama administration's requirement of a prescription for Plan B emergency contraception for girls under age 17, and it accomplished the rare feat of getting me to change my mind. Impressive. The second segment was a nod to sound-bite politics, as the panel deconstructed President Obama's ill-advised decision to tell a crowd at a Democratic fundraiser that California Attorney General Kamala Harris "happens to be by far the best-looking attorney general in the country," and the All In panel's reactions were diverse, including journalist Karen Hunter's open invitation for the President to call her "good looking" whenever he wants, and Zerlina Maxwell's objection to sexual objectification.
But it was the last two segments that really demonstrate All In's potential to do good. There has been a right-wing campaign to pose disabled people as the new "welfare queens," a narrative that relies largely on anecdotal garbage, complete fabrication, and a misunderstanding of the facts. Unfortunately, this campaign has been abetted, of late, by mainstream, and even allegedly liberal, media types. A few months ago, I did a piece on a Republican congressman who was spreading this disinformation, and the New York Times columnist (Nick Kristof) and Boston Globe reporters who were abetting him.
The "disability as welfare" narrative made the "species jump," as Hayes called it, from conservative to mainstream media months ago, but crossbred this week with the Drudge Report's link to a Jonah Goldberg column that drew heavily from an NPR report. How do you get The New York Times and NPR to agree with Jonah Goldberg and some wingnut congressman from Oklahoma? The trick is to be poor. If you're black and poor, The Boston Globe will go after you for having kids on SSI, but if you're NPR and Nick Kristof, you gather your anecdotal evidence from poor white folks in the South. It's anybody's guess what the goal here is, whether it's to score credibility points with "balance"-obsessed media critics, or an actually sincere bias against the poor and disabled, but the effect is to promote propaganda that will help Republicans gut SSI. However you feel about SSI, the journalism being practiced around it is unquestionably shoddy and biased.
Hayes' panel consisted of former Social Security Administration Commissioner Michael J. Astrue (a George W. Bush appointee), former Romney adviser Avik Roy, and disability advocate Rebecca Vallas. The NPR reporter and editor were invited, but couldn't make it. That's too bad, because Roy didn't have much to add beyond the nebulous suspicion that seems to form the sole basis for all of the reporting on this. Commissioner Astrue pointed out that fraud constitutes less than 1% of the program's outlays (and should have added that SSI is more likely to underpay than to overpay), and Vallas talked about how difficult it is to qualify for SSI, and that over 60% of applicants are turned down.
This is the kind of story that wouldn't likely get 20 minutes of primetime air on a major cable news network, but it is the truest fulfillment of journalism's duty to serve the public; the lives of real people depend on the accuracy of the information that the public receives. Hayes would probably make a similar endorsement of his program's coverage of the Arkansas pipeline spill.
It's definitely way too early to measure All In's success in terms of ratings, but the first week's numbers showed a very strong debut, a near-tie in the demo (298,000 to 308,000) with a Scott Brown-hosted O'Reilly Factor, followed by a steep drop on Tuesday (137,000 in the demo), a third-place finish in the demo (142,000) on Wednesday, and a rally to 220,000 in the demo on Thursday. There are a million ways to slice and dice ratings, but there's no doubt that All In needs some time to find its audience (and was not helped by the fact that the time slot was without a permanent occupant for two weeks). MSNBC President Phil Griffin trusts his talent, and is a particularly vociferous Hayes booster, so the show will get the time it needs to do well while it's doing good.
Here are the two slow clap-worthy segments on SSI, from MSNBC's All In:


Part two:
Follow Tommy Christopher (@TommyXtopher) on Twitter.
Have a tip we should know? tips@mediaite.com