Andrew Napolitano Breaks Down The Difference Between "Crazy" And "Insane" In Loughner Case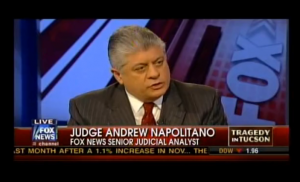 Fox News legal analyst Andrew Napolitano visited Studio B to discuss how Jared Loughner's case may unfold as lawyers, doctors and a grand jury attempt to determine whether the 22-year-old who put a bullet into Congresswoman Gabrielle Giffords' head before turning his gun on John Roll and a nine-year-old child, among others, had the presence of mind to know what he was doing.
Loughner has already been charged with "attempted murder of federal officials while they're performing their jobs" – which is a crime punishable by life in prison. More difficult to prove is whether Loughner chose to seek out and kill Judge Roll as he was serving in a professional capacity. Then, as Smith and Napolitano mention during the segment, federal murder charges are likely to come Loughner's way, so the burden falls on his lawyers to help their client avoid the death penalty by convincingly proving that he isn't merely a monster, but an insane monster. Said Napolitano:
Basically, the government has to prove that he was sane rather than he needs to prove he is insane. But history teaches, if he doesn't put some affirmative evidence on suggesting, demonstrating that he is insane, then the insanity defense will fall, because juries presume – most of us do – that if a person plans and plots a killing, and they were sane enough to do that, they knew they were shooting a person and not a sack of potatoes.
Later, Napolitano explained that psychiatrists will spend weeks with Loughner in order to grasp "what went on in that crazy head of his." When Smith seized on Napolitano's statement and pondered its legal implications, he then clarified that "crazy" doesn't mean "insane," at least from a lawyer's perspective.
Watch video from Fox News:
(Also: Please, please tell me y'all also caught Smith referring to Loughner as "this" near the beginning of the segment.)
Have a tip we should know? tips@mediaite.com