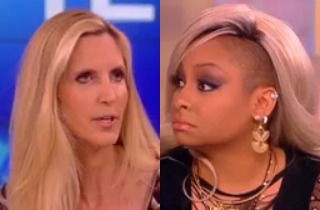 Ann Coulter appeared on today's episode of The View, where she came under heavy fire for her continuing love for Donald Trump and her own railing against immigration.
The segment began with Coulter talking about her book Adios America, where she said that by and large, illegal immigrants are from "backwards cultures" and are coming in to leech off of American generosity.
Ana Navarro reminded Coulter that neither she nor fellow host and immigrant Padma Lakshmi did any such thing, and grilled Coulter on how she can use her rhetoric without being of Native American descent.
After Coulter's counter-argument, Raven Symone followed-up by asking about how she can talk about such a vital issue with her inflammatory language.
"Why do you think that's important to mud-sling and have these words that obviously touches the hearts and souls of so many people in America?," Symone asked.
"I'm at least talking about policy, you have a position on what people's names should be. Watermelondrea," Coulter shot back. "I'm talking about a government policy that affects all Americans and immigrants and the people living here, and is harming our country."
Coulter's remark was a reference to Symone's recent controversy after saying she would not hire anyone who had a "ghetto"-sounding name. While Symone has since apologized for her remark, Coulter's retort stunned her into silence as the discussion continued.
You can watch the segment in the video above via ABC.
[image via screengrab]
Have a tip we should know? tips@mediaite.com