Reporter Concedes Royal Baby Coverage A Giant Farce: Lack Of News 'Won't Stop Us'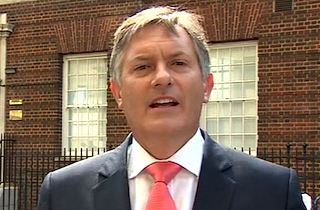 BBC reporter Simon McCoy is very unhappy about his gig standing in front of St Mary's Hospital waiting for the royal baby to be born, and around hour seven of the non-stop coverage, it began to show.
"Plenty more to come from here of course," McCoy said. "None of it news." He then seemed to catch himself: "…because that'll come from Buckingham Palace. But that won't stop us!"
A couple hours later, McCoy seemed to be agreeing with the feedback he read on air disparaging the BBC's coverage.
"Not everybody is enjoying the specter of the endless speculation," McCoy said. "A couple of texts coming into the BBC: 'Come on, BBC, people do have babies. Stop saying the same thing over and over, give us the rest of the news.' 'What a load of sycophantic rubbish,' says another. Good morning! 'God help us if this ends up a long labour.' That is a view I have heard expressed here by a couple of people."
RELATED: The Guardian's Website Has A Button That Turns Off Royal Baby Coverage
"So we'll just wait and see," McCoy said. "It could be tomorrow morning if all goes well and there are no complications. We could see the Duke and Duchess of Cambridge and their new boy or girl, third in line to the throne, walking out of that door behind me. But until then, we're going to be speculating about this royal birth with no facts to hand at the moment."
Watch the clips below, via BBC:
[h/t Buzzfeed]
—
>> Follow Evan McMurry (@evanmcmurry) on Twitter
Have a tip we should know? tips@mediaite.com