Bill O'Reilly And Glenn Beck Clash Over Whether Newt Gingrich Is 'Progressive'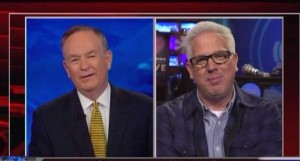 Thursday night, The Factor host Bill O'Reilly brought on his former Fox News colleague Glenn Beck to discuss the latter's recent criticism of former House Speaker and current GOP presidential hopeful Newt Gingrich. Beck, you made recall, opined that Gingrich is a "big government progressive."
RELATED: Newt Gingrich Responds To Glenn Beck's 'Progressive' Claim: 'Depends On What Standard You're Using'
To bolster his claim, Beck turned to Gingrich's continued assertion that the most effective president in U.S. history has not been Ronald Reagan but rather FDR, because, as Beck paraphrased, "he's a Progressive in the good times and he knows how to get things done in the bad times." Plus, he added, Gingrich loves Teddy Roosevelt, father of the Progressive Movement and is "positively Wilsonian" when it comes to foreign policy.
O'Reilly remained unconvinced.
"Woodrow Wilson!" he said. "That's not good." But, O'Reilly noted, Roosevelt's Progressive party is not the same as the progressive movement as it exists today.
"Don't argue with me about the Progressive Party!" laughed Beck.
Beck then shared that, were he an Iowa voter, he'd go with Michele Bachmann as his top candidate. O'Reilly then deconstructed Bachmann's campaign, specifically mentioning her "harsh" stance on homosexuality.
O'Reilly also accused Beck of "interpreting" Gingrich's statements rather than simply reiterating them.
Oh, and if you were crestfallen over the lack of babies wearing ties on cable news programs, this was definitely the segment for you.
Have a look at their discussion, via Fox News:
Have a tip we should know? tips@mediaite.com