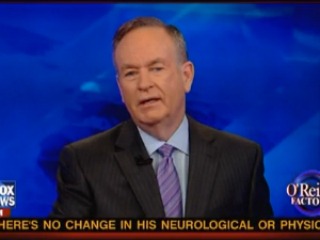 Thursday night, The Factor's Bill O'Reilly reported on how "the very liberal MSNBC network" has taken Pat Buchanan off the air because of opinions espoused of his book, Suicide of a Superpower, particularly where the issues of religion and immigration are concerned. Buchanan had previously denied being suspended from the network, explaining his absence as a medical leave.
Washington Post Magazine contributing editor Cathy Areu weighed in, noting that there have long been suspicions of Buchanan being a white supremacist or white extremist, and that the ideas he sets forth in his book confirm that. O'Reilly disagreed with that assessment, interpreting the book as simply saying that the idea of a melting pot nation "under God" has become a thing of the past, much to the country's detriment. But "you can believe he's a white supremacist, you can think I'm a member of the Mickey Mouse Club."
RELATED: Pat Buchanan Denies Being Suspended By MSNBC, Says He's On Medical Leave
O'Reilly's main question, however, is this: Should MSNBC have taken Buchanan off the air now when he's been basically promoting the same ideas for years? As Areu sees it, Buchanan's book confirms, without the shadow of a doubt, long-held suspicions about Buchanan's extremist, racist views. (But if the litmus test for dismissal from MSNBC is extremism, O'Reilly mused, who wouldn't be fired?)
RELATED: If MSNBC Sacks Pat Buchanan, Will They Have To Answer For Al Sharpton?
Fox News contributor Sandy Rios, meanwhile, sees the move as an attack on free speech.
And here's where O'Reilly defended MSNBC.
The network, he explained, is a private operation. "They can hire and fire whoever they want," he said. "So it's their prerogative to put him on the air or not. My thing is, Buchanan's not saying anything now that he hasn't said before in plenty of different forms. They knew it when they hired him; that's what he was getting. And now they go, 'Well, we don't like it.'"
He also asked whether Buchanan's book wasn't merely generalizing or exaggerating when it described the self-imposed "grouping" of different ethnic groups within the U.S.
Watch what happened, via Fox News:
Have a tip we should know? tips@mediaite.com