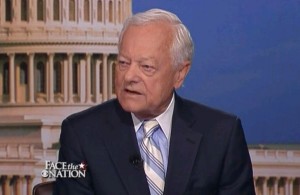 On Face the Nation today, Bob Schieffer brought up Harry Reid's provocative statements that Mitt Romney has not paid taxes in ten years and his refusal to back down from that claim. Schieffer questioned former Ohio governor Ted Strickland on whether such accusations are irresponsible in coming from a top Democrat, while Virginia governor Bob McDonnell called Reid's remarks "slanderous."
RELATED: Paul Begala Defends Reid's Allegations Against Romney, Is Mocked By Anderson Cooper, Mary Matalin
Strickland said the best way for Romney to put the whole issue to rest is to release the returns. Schieffer compared the whole controversy with Reid and Romney to the days of Joe McCarthy.
"Isn't this kind of like Joe McCarthy back in the era when he said, 'I have in my hand the names of 400 people in the State Department who are communists'? It turns out he didn't, and he was saying that the way to prove that they're not is for them to come forward there. I mean, asking somebody to come forward just because there's been an unsubstantiated charge, that's a little thin to me."
Strickland insisted that the people "deserve to know" what is in Romney's taxes, and defended Reid by saying that Romney's lack of transparency on his returns "invites speculation." McDonnell went in the other direction, calling Reid's accusation a "reckless and slanderous charge." He said Americans care more about their own tax returns under President Obama than about Romney's.
Watch the video below, courtesy of CBS:
Have a tip we should know? tips@mediaite.com
Josh Feldman - Senior Editor