Brzezinski and King Spar Over Refugee Vetting Process: 'Mika, You Are 1000% Wrong!'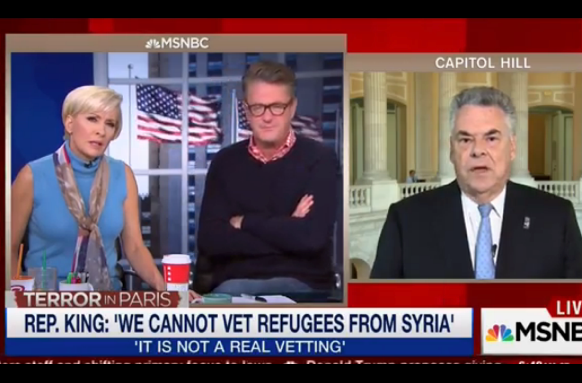 On Tuesday's Morning Joe, co-host Mika Brzezinski got combative with Republican New York Congressman Peter King over the ongoing debate surrounding Syrian refugees looking to enter the United States. The conversation came one day after a growing number of state Governors declared that they would not want to accept any refugees following Friday's deadly terrorist attacks in Paris.
King, an acting member of the Homeland Security Committee, told the Morning Joe panel, "We can not vet the refugees from Syria. There are no databases to work against, no government records… People talk about 'thorough vetting'. There is no vetting as a practical matter."
Brzezinski interrupted King to dispute his claim, saying, "Hold on one second — there is vetting. There are face-to-face interviews, there are health screenings, often it takes two years for a family to get here."
"No, Mika you are entirely wrong," Congressman King shot back.
Undeterred, Brzezinski defiantly told King, "Actually sir, I think you're wrong… the vetting is happening, whether you like it or not."
"You are wrong Mika, you are 1000% wrong!" replied King.
Brzezinski turned her attention to the issue that has been at the heart of this debate, focusing on the inclusive nature of our democracy and the United States turning a blind eye to refugees in a time of crisis. She continued, "So should we say 'Syrians stay out of America? You're not welcome here'?"
King would not answer the question directly, instead responding honestly, "My job is to protect Americans, not to feel good about myself… if Americans get killed, because we're letting people in who have not been properly vetted — and they can not be properly vetted — how many times do I have to tell you this Mika? You are wrong."
Watch the above clip from MSNBC.
[image via screengrab]
—
>> Follow J.D. Durkin on Twitter (@MediaiteJD)
Have a tip we should know? tips@mediaite.com