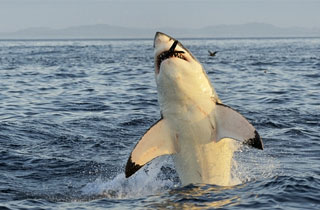 Discovery, the channel that first introduced America to the power of sharks, announced today that they would expand their famous Shark Week programming over two months, in a Megalodon-sized event called "Summer of the Shark."
Entertainment Weekly reports that this insane sharkapalooza will begin airing on July 5th of this year with a normal Shark Week, and then, at the end of August, do another Shark Weekend, giving the world the most sharks that the channel has delivered in the 28 years of Shark Week. (The exact number of shark hours has not been determined yet, but EW sources say "it's a lot.")
Are there even enough sharks out there for this much shark-themed programming? Will Discovery pull a CNBC and run three hours of Shark Tank two days a week to make up for the lack of sharks, even though Kevin O'Leary looks nothing like an actual shark? Are these enough sharks for you, America??
Expeditions will include the first Shark Week trip to Cuba, plus global locations that include New Zealand, South Africa, Taiwan and the Arctic, as well as numerous U.S. destinations.

Shows will include new sequels to Shark Week favorites – like the Great White-filed Air Jaws, and Great White Serial Killer featuring Jeff Kurr, Andy Casagrande and Brandon McMillan; and programming starring 10-year-old shark conservation activist Sean Lesniak (who helped get a law passed last year banning the possession and sale of shark fins in Massachusetts).
That's right: there is a 10-year-old hosting Shark Week shows.
The announcement comes less than a month after Discovery's new chief publicly promised to stop airing documentaries based on spurious science and stunt events, like being eaten by anacondas. In exchange, here are a lot of sharks. Some of it hosted by a 10-year-old. That's all we have to say on the subject.
CORRECTION — 12:36 p.m. ET: Discovery has reached out and clarified that there will not, in fact, be eight weeks of Shark Week, but rather two separate events (a normal Shark Week and an extra weekend of shark-related programming in August). We have updated this article accordingly and fed the old article to the sharks.
[Entertainment Weekly]
[Image via Shutterstock]
—
>> Follow Tina Nguyen (@Tina_Nguyen) on Twitter
Have a tip we should know? [email protected]