Flashback: Fox's Chris Wallace Terrifies Rep. Paul Ryan With A Birthday Cake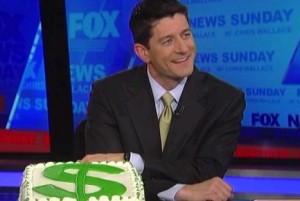 Those of us who don't like it when waitresses come over to us in restaurants to sing "Happy Birthday" should be able to sympathize. Congressman Paul Ryan's birthday is today, and yet he took time out of whatever decadent Bacchanalia he clearly had planned to stop by Fox News Sunday to talk politics and the economy with Chris Wallace. At the end of the interview, Wallace noted it was Ryan's 42nd birthday, and then, inexplicably, one of Wallace's crewpeople appeared on camera presenting Ryan with a birthday cake.
RELATED: Anderson Cooper Presents Isha Sesay With Gumby And A Platter Of Twinkies For Her Birthday
The cake was layered with a frosted-on dollar sign, and Wallace encouraged Ryan to cut into it because what better birthday present can you get a fiscal conservative than allowing him to metaphorically carve up the federal dollar? Ryan joked that we should be making more of these for people all across the country. Sadly, he wasn't referring to cakes. But perhaps the most awkward part of the exchange was Ryan's admission that he stopped eating sweets a long time ago.
It's like if a vegetarian was on the show, and Chris Wallace said, "Happy birthday! We got you a week's supply of steaks!" (Or conversely, trying to give salad to an ardent carnivore.) Wallace cracked himself up at the end of the segment, quipping, "Oh, what we'll do for a photo op."
Watch the incredible awkwardness below, courtesy of Fox News:
Have a tip we should know? tips@mediaite.com
Josh Feldman - Senior Editor