CNN Comms VP Rips 'Shameful' Sarah Sanders For Pushing 'Actual Fake News': 'History Will Not Be Kind to You'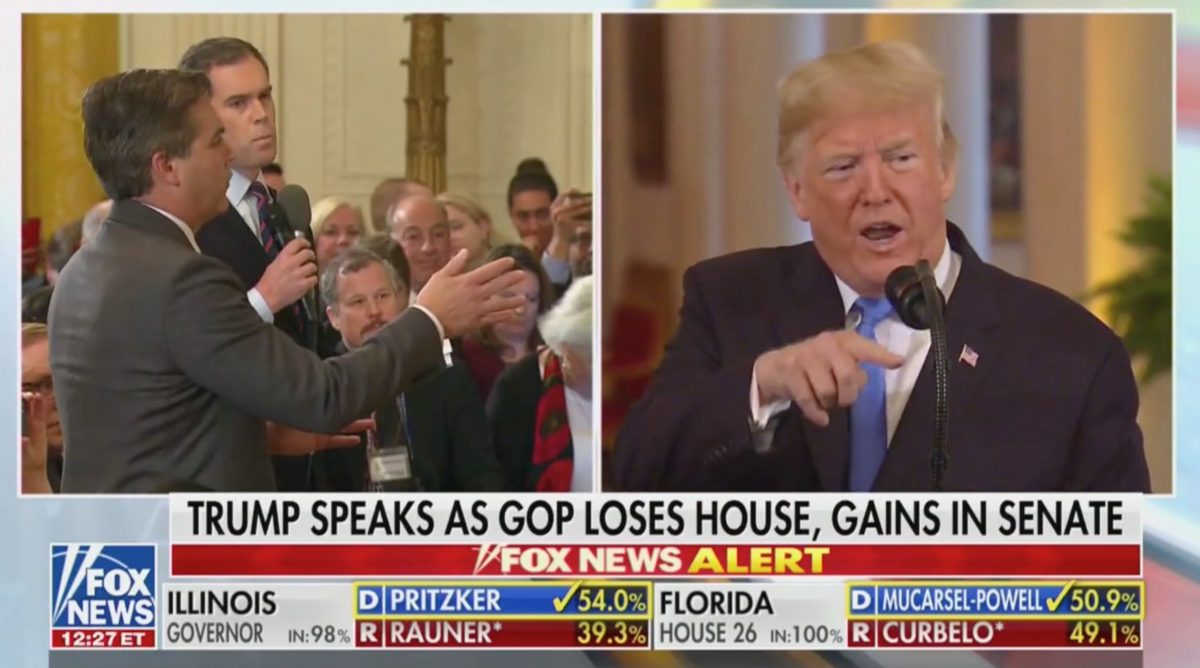 Matt Dornic, CNN's VP of communications, lambasted White House press secretary Sarah Huckabee Sanders on Thursday morning for tweeting out a doctored video of Jim Acosta's contentious exchange with President Donald Trump.
Acosta and Trump verbally clashed at a post-midterms press conference Wednesday, and as the president shouted down the CNN reporter's questions, a White House intern attempted to remove his microphone.
In a stunning response, the White House suspended Acosta's press credentials, with Sarah Sanders posting a doctored video on Twitter intended to show the CNN reporter acting inappropriately with the female intern.
Allegations that Acosta assaulted the intern circulated in right wing media on Wednesday, and the video Sanders posted was first pushed out by accounts linked to conspiracy site Infowars.
Dornic joined in the chorus of media figures blasting Sanders for her dishonesty.
"Absolutely shameful, @PressSec," he tweeted. "You released a doctored video – actual fake news. History will not be kind to you."
Absolutely shameful, @PressSec. You released a doctored video – actual fake news. History will not be kind to you. https://t.co/v1w9Lj9TlK

— Matt Dornic (@mdornic) November 8, 2018
Dornic also retweeted other criticisms of Sanders:
We throw around the world "propaganda" a lot nowadays, but this right here? This is textbook propaganda. And produced by an organization so batshit crazy that they said Obama harvested baby parts and that Sandy Hook kids didn't actually get shot. https://t.co/2REkgWacYJ

— The Gadfly (@davidlondon) November 8, 2018
As someone who has had my press credentials denied by authoritarian China, I never thought I'd see this crap happen in the US. And this "most reporters are okay but @Acosta is aggressive" thing is the EXACT line Chinese propaganda printed about me. It's a tactic, people.

— Melissa Chan (@melissakchan) November 8, 2018
Yes, the White House press office is sharing a manipulated video that makes it appear that Acosta was menacing the intern when he was not and did not. The intern reached over Acosta to grab the microphone while he was trying to ask another q and Acosta tried to pull away. https://t.co/2cqjHSYmr4

— Maggie Haberman (@maggieNYT) November 8, 2018
.@PressSec you are seriously tweeting out an obviously doctored video – from InfoWars no less – to substantiate a false accusation of assault against a journalist???

The standard for libel against a public figure is acting with "actual malice," and your tweet is Exhibit A. https://t.co/G6JKx3ZrpN

— Asha Rangappa (@AshaRangappa_) November 8, 2018
—
[Featured image via screengrab]
Have a tip we should know? tips@mediaite.com
Aidan McLaughlin - Editor in Chief