CNN Guest David Frum Weighs In On Trump's Birtherfest: 'Big Steaming Pile Of Sh** Spaghetti'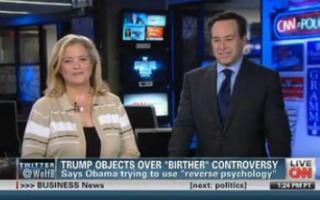 Following Donald Trump's rather contentious interview with CNN's Wolf Blitzer, The Situation Room brought on contributors Hilary Rosen and David Frum to discuss Trump's comments. Frum, however, reserved his most biting commentary for Twitter…
RELATED: Donald Trump Doubles Down On Birther Nonsense, Gets Flogged By Wolf Blitzer
On CNN, Frum said he hoped the Romney campaign would be receiving "a lot, a lot" of money to counteract all the negative publicity Trump is bringing his way. He added that he sympathized with Romney, noting that "candidates all the time attract jackass supporters, and you're not responsible for every jackass who supports you."
Rosen shared that "even I" feel sorry for Romney for being linked to Trump, although she did point out that people are continuing to call for Romney to really step forward and disavow Trump's birther comments. Indeed, Frum called the birther controversy "embarrassing" both for Romney specifically and Republicans in general. His guess as to why Trump is so willing to be "clownish" on "programming based on the willingness of people to do that"? More TV time.
Blizter brought up a correlation with controversial HBO host Bill Maher's vocal and financial support for President Obama, but he and the panel agreed that there is a difference between a pro-Obama PAC accepting a donation from Maher and a candidate appearing with someone who routinely spouts off contentious, offensive rhetoric, as Romney has with Trump.
Frum then once again urged the public not to blame Romney for Trump's comments before the panel turned to the topic of Romney's religion and its historic implication for this election.
Then, after his appearance on CNN, Frum took to Twitter to share a little morsel not quite fit for TV:
That was a big steaming plate of shit spaghetti Trump just deposited on CNN for his supposed friend Romney

— davidfrum (@davidfrum) May 29, 2012
Have a look at what Frum and Rosen had to say about Trump, via CNN:
Have a tip we should know? tips@mediaite.com