CNN Reporter Presses Earnest on Refugee Policy: San Bernardino Shooter Was Vetted, Too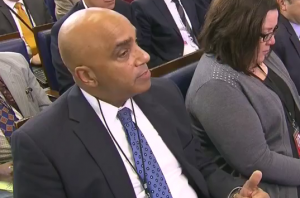 CNN's Joe Johns asked White House press secretary Josh Earnest pointed questions about the vetting process for Syrian refugees Friday, noting that the San Bernardino shooter who pledged allegiance to ISIS was also vetted by the government.
"What can you tell us, if anything, about the vetting process of Tashfeen Malik, the wife?" he asked. "It does appear that she was vetted by the government to some extent before she traveled here."
Earnest responded by noting that the investigation into the San Bernardino shooting was still ongoing. "This is one of the things that is part of the investigation, to learn exactly the circumstances of some of the international travel," he said.
"Is there significant difference between the vetting of someone coming through a K-1 fiance visa, as opposed to somebody coming in as a refugee from Syria?" Johns pressed.
But Earnest insisted that refugee screening was much more rigorous. "Refugees seeking to be resettled in the United States are subjected to the most rigorous, intensive screening of anyone who attempts to enter the United States," he said. "That process can take typically between 18 and 24 months."
Johns also asked about the administration's policy of giving preference female refugees. "Does the United States need to look into whether women should be held to a stricter standard coming from certain countries, due to the fact of what we have just seen?" he asked.
Earnest again punted by citing the ongoing investigation. "This will be a question that our investigators will consider," he promised.
Watch above, via CNN.
[Image via screengrab]
——
>>Follow Alex Griswold (@HashtagGriswold) on Twitter
Have a tip we should know? tips@mediaite.com