Colbert and Dem Rep. Face Off: 'That's a Question I Can't Even Answer Because It's So Stupid'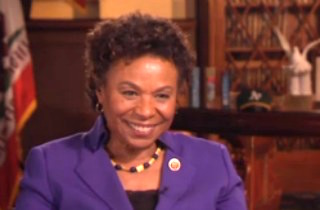 In the latest installment of Stephen Colbert's "Better Know a District" series, the Colbert Report host sat down with Rep. Barbara Lee (D-CA) in a political incorrect, awkward, but hilarious series of events.
Colbert praised Oakland, which Lee represents, as one of America's most diverse cities, but quickly criticized Lee for seemingly not knowing enough about the diversity in her city. He challenged her on whether Oakland really does have the third-highest concentration of lesbians in the country, asking if the city's proximity to San Francisco means there's just a "lesbian spillover, or as they call it, scissoring."
Since the Oakland Coliseum is where the "wave" was invented, Colbert and Lee did the motions together for more than 30 seconds straight.
Colbert then called Lee a "traitor" and a lover of Al-Qaeda for being the lone vote against the authorization for military force following the terrorist attacks of 9/11. There was then a bit of contention over Colbert's questioning of Lee's membership on the Congressional Urban Caucus: "Aren't you a lifetime member of the urban caucus? Aren't you kind of grandfathered into the urban caucus?"
The awkwardness picked up when Colbert asked the congresswoman about "comprehensive abstinence education" in public schools.
"I'm practicing abstinence right now, as we speak," Colbert said. "Though that could change if you play your cards right."
"You are really crazy," she replied. "You are out of your head."
To end the interview, Colbert and Lee went outside of her Capitol Hill office and fired Silly String at each other. Yes, a comedian and a sitting representative sprayed Silly String all over each other in the halls of Congress.
Watch the entire interview below, via Comedy Central:
[Image via screengrab]
— —
>>Follow Andrew Desiderio (@forza_desiderio) on Twitter
[Note: Mediaite intern Andrew Desiderio is a student at The George Washington University.]
Have a tip we should know? tips@mediaite.com