Colbert Takes On Piers Morgan Over Gun Control: 'Do You Hate The United States Constitution?'
Colbert To Piers Morgan: 'Do You Hate The US Constitution?'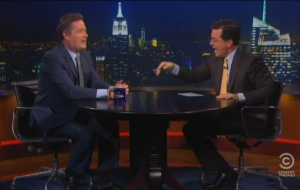 On Monday night, CNN host Piers Morgan paid a visit to Stephen Colbert, who was not exactly convinced by Morgan's passionate gun control advocacy. Questioning whether Morgan has any idea what the constitution even says, Colbert offered a Freedom 101 lesson of sorts.
In the "most respectful way possible," Colbert kicked off the interview by telling Morgan to "get the fuck out of here." No, but seriously: "Do you understand, to an American ear, what it sounds like to have an English accent telling us how to live our lives?"
As the pair started chatting about how people in the UK just don't have guns, Colbert asked whether Morgan hates America's constitution ("Do you hate the United States constitution?…Do you speak English?") — helpfully providing the CNN host with his own pocket-size copy of the document.
"We have a different experience with guns than you do," Colbert elaborated. "So how dare you tell Americans how to live their lives?"
Morgan said he was simply pointing out that in his country, "where we have no guns," there are few gun murders. "I think when 20 young children get blown to pieces, Americans should say something has to be done," he added, promptly Colbert to call out his "cheap shot to bring up the subject that we're talking about."
Colbert offered a better approach: take some time, "reflect, and eventually forget."
The interview then moved on to Morgan's series of explosive interviews. Some people, Colbert said, feel "you are just pumping up your ratings by having on crazy people." Why not have reasonable people?
The ensuing banter returned to Colbert's repeated question: "Have you read the constitution?"
Morgan left the interview with two copies.
Watch below, via Comedy Central:
Have a tip we should know? tips@mediaite.com