On Monday, The Atlantic published a "sponsor content" piece — an advertorial, if you will — about the Church of Scientology. Not long afterward, the piece caused a stir on Twitter and elsewhere online. The magazine has since pulled the piece.
The post entitled "David Miscavige Leads Scientology to Milestone Year" lauded Church of Scientology leader David Miscavige for his "unrelenting" work. He "has led a renaissance for the religion itself, while driving worldwide programs to serve communities through Church-sponsored social and humanitarian initiatives."
It went on to list the "unprecedented 12 Ideal Scientology Churches" built this year. Locations included Germany, Italy, and California.
The move didn't quite incite rave reviews. Gawker noted that The Atlantic "Is Now Publishing Bizarre, Blatant Scientology Propaganda as 'Sponsored Content.'" Business Insider offered another piece on Scientology "in the interest of contrast." Employees of The Atlantic itself also reacted. As Poynter shows, some also raised questions about the comment moderation on the post.
The magazine later unpublished the piece, posting the following message in its place: "We have temporarily suspended this advertising campaign pending a review of our policies that govern sponsor content and subsequent comment threads."
A screenshot of the original post is below (which is cached here):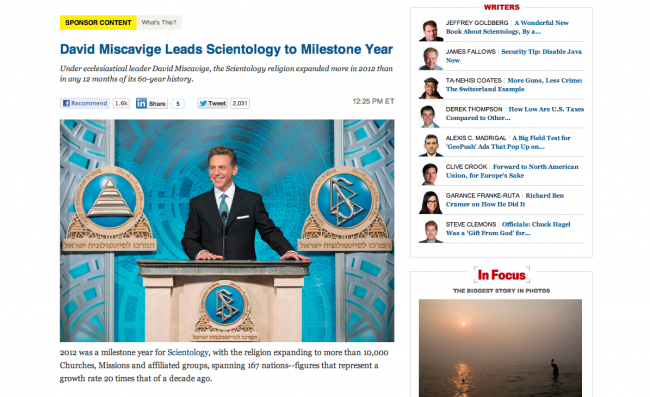 Sponsored content isn't a foreign concept in journalism, but this incident shows that readers do care about what type of content that may be. Chime in with your thoughts.
UPDATE: The Atlantic released a statement about the whole debacle, plainly saying they "screwed up."
We screwed up. It shouldn't have taken a wave of constructive criticism — but it has — to alert us that we've made a mistake, possibly several mistakes. We now realize that as we explored new forms of digital advertising, we failed to update the policies that must govern the decisions we make along the way. It's safe to say that we are thinking a lot more about these policies after running this ad than we did beforehand. In the meantime, we have decided to withdraw the ad until we figure all of this out. We remain committed to and enthusiastic about innovation in digital advertising, but acknowledge—sheepishly—that that we got ahead of ourselves. We are sorry, and we're working very hard to put things right.
Have a tip we should know? tips@mediaite.com