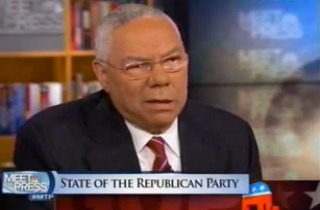 Former Secretary of State Colin Powell appeared on NBC's Meet the Press Sunday and had some strong words for his fellow GOP members: "The Republican party needs to take a very hard look at itself and understand that the country has changed." Powell criticized the GOP of today for everything from their views on climate change to taxes. Most importantly? The party has a "dark vein of intolerance" running through it and "if they don't change" along with America's changing demographics, "they are going to be in trouble."
Host David Gregory asked Powell why he was still a Republican and he noted that it was the way he was "raised," but that "the Republican party right now is having an identity problem."
RELATED: GOP Frustrated Over Rape Comments: 'Stop' Talking About Rape As Anything But A 'Brutal And Horrible Crime'
The GOP "still looks down on minorities," Powell said. He slammed Sarah Palin's "shuck and jive" comments from last year about President Obama and criticized Republican's use of the word "lazy" to describe the president.
"Why do senior Republican leaders tolerate this kind of discussion within the party?" he asked.
The choice of the next Republican candidate may be less important than what the party actually stands for, Powell added.
"If it's just going to represent the far right-wing of the political spectrum, I think the party is in difficulty," he said.
Watch the full clip below, via NBC:
—
>> Follow Anjali Sareen (@AnjaliSareen) On Twitter
Have a tip we should know? tips@mediaite.com