Columbia Journalism Review Names Don Lemon Among the Worst of the Worst in 2014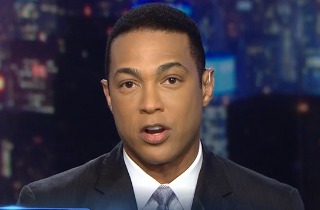 The Columbia Journalism Review gave a big ol' lump of Christmas coal to CNN's Don Lemon earlier this week by naming him among the worst of the worst in journalism for the year 2014.
CJR's "Darts & Laurels" blog released its annual "worst" review on Monday, handing out its dubious "DART" awards to outlets like Rolling Stone (for its infamously bungled UVA rape story), CBS' 60 Minutes (for failing to interview a single local for a piece on African Ebola), and Fox & Friends (for its insensitive jokes following the Ray Rice elevator video).
But they saved some of the most direct criticism for Lemon, whose "gaffes this year offer a case study in how to choose words wisely — or not." More from the text:
On March 20, he asked guests whether Malaysia Airlines Flight 370 could have been swallowed by a black hole: "I know it's preposterous, but is it preposterous?" He later compared spanking children to training dogs and probed similarities between the release of US Army POW Bowe Bergdahl and the Showtime series Homeland. When an alleged Bill Cosby rape victim appeared on his show on Nov. 18, he lectured, "You know, there are ways not to perform oral sex if you didn't want to do it…Meaning the use of teeth, right?" Less than a week later, as protests turned violent in Ferguson, MO, he described the scene: "Obviously, there's a smell of marijuana in the air." Lemon's job isn't easy. But he's earned a DART for going there. Obviously.
Congratulations, Don Lemon?
— —
Have a tip we should know? tips@mediaite.com