Trump: 'Wise Guy' Romney 'Demeaned Himself' Reading My Mean Tweets on Kimmel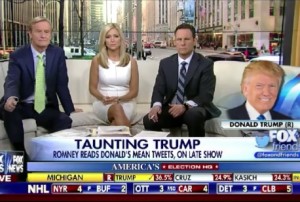 Responding to a Jimmy Kimmel bit in which former Republican presidential candidate Mitt Romney read off his mean tweets, current GOP frontrunner Donald Trump told Fox & Friends that the late night segment was "demeaning."
"I thought it was so terrible that Mitt Romney did that," Trump said. "It was false. But I'll tell you, he shouldn't have done what he did last week, he shouldn't have gone on that show."
Trump told the Fox hosts that Romney "demeaned" himself with the display. "In what way did he demean himself?" asked Brian Kilmeade.
"I thought it was demeaning to him." @realDonaldTrump on Romney reading "mean tweets" about himself on Jimmy Kimmelhttps://t.co/1m5iiFJxnd

— FOX & Friends (@foxandfriends) March 9, 2016
"I thought it didn't look good," Trump responded. "Let me put it this way, I don't think I would have done that. I don't think he should have been reading the tweets — those negative tweets. Why is he doing that?"
"I thought it was demeaning," he said. "And nothing to do with me, I thought it was demeaning to him."
Trump was accidentally disconnected, but the hosts brought him back at the top of the hour to play the video of Romney for him. "You thought it wasn't funny, it was inappropriate?" Kilmeade asked.
"Well, he's a wise guy," Trump said. "He had a big failure, he has to admit that. He should be trying to unify the party not tear the party apart."
Watch above, via Fox News.
[Image via screengrab]
——
>>Follow Alex Griswold (@HashtagGriswold) on Twitter
Have a tip we should know? tips@mediaite.com