Bernie's Michigan Win Is a Great Grassroots Upset, But Does It Just Delay the Inevitable?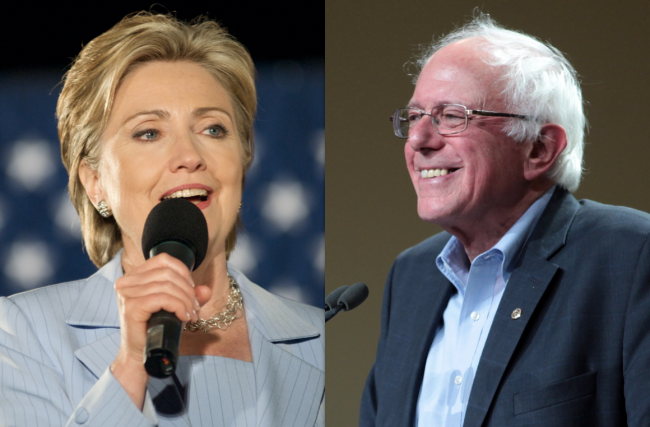 It took until 11:31 p.m. ET for The Associated Press to announce that it was finally prepared to call the Michigan Democratic primary last night in favor of Vermont Senator Bernie Sanders. Although the polls had closed hours earlier, the too-close-to-call photo finish had left every cable news network scratching their heads, unable to declare a victor in Sanders' fight with former Secretary of State Hillary Clinton.
The headlines far and wide were posted on every site, Twitter feed, and political blog in the middle of the night to indicate a yuuuuge (sorry) upset win for the self-described Democratic-Socialist. And rightfully so; after all, according to the most recent Real Clear Politics national polling data, Clinton held a 21.4 point spread heading into primary voting in Michigan. Sanders finished with 590,386 total votes compared to Clinton's 570,949 when all was said and done, taking home 65 delegates in the process.
However, despite the optics that Clinton could not declare victory in the Great Lake State, she still added 58 delegates from her second place finish; add that to the 29 delegates she had already won earlier in the night from her monstrous win in Mississippi (versus just 4 for Sanders), and suddenly the Bern — as ambitious, heroic, and hat-tip worthy a fight as it was — suddenly seems a little less hot in hindsight.
Any way you slice it, Hillary Clinton won Tuesday night with 87 delegates, while Senator Sanders added just 69.
Even the Sanders win in Michigan is fraught with its own issues; sure, the 74-year-old so beloved by bros, college kids and hipsters with beards performed well in places like Washtenaw County, home of the University of Michigan, but the demographics here still paint a different story beyond what a SANDERS UPSETS CLINTON headline reveals. Take Kalkaska County for example. Sanders cruised to victory with over 64% of the votes in Kalkaska, but its demographics are nearly 97% white. Same goes for Emmet County (92.7% white), Houghton County (93.7% white), and Gogebic County (90.7% white). All windfall victories for the underdog Sanders, all as white as your average Trump rally.
But in the parts of Michigan that more closely resemble Mississippi — where Sanders got absolutely shellacked Tuesday night, losing every single one of the state's 82 counties — in terms of demographic (African-American), Clinton reigned supreme. In Wayne County, home of Detroit, Clinton won 60% of the recorded vote, also claiming victory in the neighboring two counties. And in Genesee County, home of — you guessed it — the dire and troubled communities of Flint, Clinton won as well. In South Carolina two weeks ago, Clinton managed 73.5% of the African-American vote.
The Sanders faithful will look ahead to March 15th's primary in Ohio as the next big stomping ground to do some damage, hoping to replicate last night's miracle double-digit underdog win; RCP identifies that, similarly to Michigan, Clinton holds a 20.0 point spread over Sanders in the Buckeye State, though that is certainly subject to change after Super Tuesday 2: Electic Boogaloo.
But even as the BERN BABY BERN headlines continue to smolder this morning and people ask "what went wrong?" for Clinton in Michigan, the harsh reality is that the delegate count today is still lopsidedly in the former Secretary's favor: 1,221 to 571. Despite the outrage that former Vermont Governor Howard Dean caused this weekend when he abrasively revealed that "Super delegates don't 'represent people'", the fact remains that the superdelegates are a key ace in the hole for a Clinton campaign firmly planted in the establishment lane. Without those superdelegates, the race is admittedly much, much closer, far too close for Clinton's comfort: 745 delegates won compared to 540 for Sanders as of this morning.
But call it fair or call it bullsh*t, the superdelegates easily hand this race to Clinton, as she has "won" a whopping 461 of them versus a meek 25 for Sanders. While many have called for the abolishment of the Democratic party's superdelegate practice, the fact remains: even despite a historic David-over-Goliath-scale victory for the grassroots scrappy underdog in Michigan Tuesday night, it would seem, at least in the estimation of this writer, that it simply delays the inevitable fate of victory for Hillary Clinton in the 2016 race.
—
J.D. Durkin (@jiveDurkey) is the Senior Editor of Mediaite.
This is an opinion piece. The views expressed in this article are those of just the author.