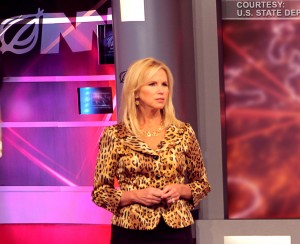 Look, I love all things The Onion. You probably could have guessed that from my post entitled "The Onion Releases First Promo For Their New Series And It Looks All Sorts Of Awesome." The folks over at IFC apparently noticed that as well and, sensing that this was a subject where I have next to zero journalistic integrity and that my unabashed fanboyism was thus perfectly suited to be used for their own dark purposes, they've rewarded me (and by extension, you) with an exclusive first look at the upcoming Onion News Network!
To be honest, there isn't that much here that we don't know. The image appears to be a moment from FactZone, one of the shows within a show that is hosted by Brooke Alvarez whom the press release describes as "able to seamlessly segue from a grisly death to a cute animal story in the blink of a stunningly beautiful eye." Alvarez is actually a fictional character played by actress Suzanne Sena but, in typical Onion style, she's already got a full backstory that apparently includes longstanding feuds with Wolf Blitzer and Yo Yo Ma.
However, the one new thing we get is a look at one of the upcoming stories the program will be covering thanks to the headline in the corner. Apparently, in the world of the ONN, Kim Jong Il has shut down his nuclear program in exchange for a role in the new Batman movie. This comes complete with a photoshop of the Dear Leader looking very heroic in the Dark Knight's armor.
Anyway, to complete my role as a willing blogger/pawn, I will remind you all that the new series premieres on January 21, at 10pm on IFC.
God, it's a good thing I really do love The Onion. I'll only have to take a brief shower now.
Have a tip we should know? tips@mediaite.com