FBN's Deirdre Bolton on the Art of Elevator Pitching and Why She Likes John Oliver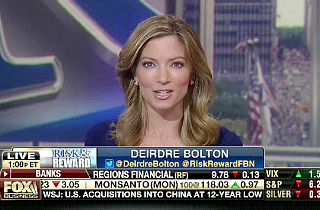 Six months ago, Fox Business Network launched Risk & Reward with Deirdre Bolton, a veteran business reporter who they'd just hired away from Bloomberg TV. The new show, which airs weekdays at 1 p.m. ET, features a regular Friday segment called "Elevator Pitch," which allows an entrepreneur to pitch an idea to Bolton in 30 seconds and then have three judges give critical feedback and vote on whether they'd support the concept.

The show occasionally beats CNBC's Power Lunch in the key 25-54 demo. Earlier this month, on Sept. 11, Bolton nearly doubled her competitor's 17k demo rating, while also racking up her biggest total viewership yet (120k).
Today's edition of Risk & Reward will see Bolton in San Francisco, conducting long-form interviews with controversial PayPal co-founder Peter Thiel and legendary venture capitalist Roger McNamee. Shortly before her trip, we spoke with Bolton by phone; read below (in two pages):
How has the transition been from Bloomberg TV to Fox Business Network?
It has been fantastic! I've got to say: One of the great things about being at Fox, is that they are really super supportive about all sorts of creative endeavors. They really give full faith and backing, to the extent that when I pitched this regular segment idea called "Elevator Pitch," I had arguments ready to defend it because I expected pushback as that's what I'd always dealt with.
But I pitched it and they were, like, "Great. Here's your team, a facilities person who'll help you, a security person who will help you." They all took care of it. Honestly, I have this huge sense of relief and wind in my sails in that whatever good ideas I have, they're just going to support them. There's no dragging myself through broken glass to get ideas done here.
Speaking of the "Elevator Pitch" segment, tell us a bit about it. How'd you come up with it?
It's a classic concept, really, going back to the Don Draper era. When you have 30 seconds, what do you say that's going to impress your boss? So we have these entrepreneurs give a quick pitch to me in an elevator, and then afterwards three judges — usually angel investors or VCs — give positive or negative feedback and tell the person whether they'd help them out.
It's an important concept because if you're running a company, or you need support for an idea, it's just universally true that you need to have your talking points down. There's so much more noise today, and so clear communication is more important than ever. I'm very heavily plugged into the New York tech community, and even if you pitch them something and they're not crazy about your idea, but they're crazy about you, they might back you because they think you have capability to tell your company's story well.
Did your connections to the tech community play a role in developing the idea?
I figured since I was plugged into the community, it would be a fun way to cover this renaissance in New York. I wanted it to be fun and useful for entrepreneurs to come on and, even if they get killed they all, after the segment, sincerely thank me. It can tell it's heartfelt because they genuinely wanted this criticism to tweak their work. It's professional feedback for free. Even when they get ripped apart on national TV, they find it helpful. There are so many more people working for themselves, and there's a lot of investor money available. I'm hoping if viewers are at all interested, they'll get inspired to get their talking points straight.
Have any of your judges actually helped out the entrepreneurs?
Well, I know there have checks cut in my green room. A billionaire once cut a check to an entrepreneur in the green room. I love how that guy, as a billionaire, doesn't have to work anymore; he just loves building things. He's in his 60s, and he loves being a part of the next generation.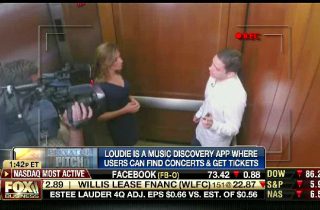 Any others like that?
One bigwig of a private equity firm — one of the big three — met an engineer on her third company. She wasn't even there for "Elevator Pitch." He was absolutely smitten by her, in the sense of she's an engineer, and he's also an engineer; look at what she's done versus look what I've done. I'm like "Dude, you run a PE firm!" He's like, "Yeah, but she's actually building." He took her details with the intention of following up and getting in on the next level.
What are some of the best stories from your "Elevator Pitch" entrepreneurs?
I really like Will Mayo, he's the creator of Spoken Layer. What he does is hire unknown actors to read material from Time Inc. publications and Fast Company, and makes it into a podcast for the millions of commuters nationwide who want this brain food but they can't read while behind the wheel. It's such a success story already, but he's also tapping into sharing economy by hiring these unknown actors and actresses who are happy to make a couple bucks an hour reading cool stuff. People get better brain food and, interestingly, in his case, the auditory element is what really drove him because he's dyslexic. [Video of his "Elevator Pitch" below:]
I also liked the story of Allison Strauss. Her company, called Yarly, aimed at getting your old photos digitized. Every judge had a problem with the business model, but she was so persuasive that they said yes, we would introduce you to our business partners because,you are amazing, and someone will guide you in the right direction. [Video of that "Elevator Pitch" below:]
And then there was a "green room graduate moment," so to speak. Jennifer Fitzgerald with PolicyGenius, which essentially packages insurance to Millennials, going around the brokers. She really cleanly laid it out, and she got written up in the New York Times a few weeks after the show. [Her pitch below:]
>> READ ON TO NEXT PAGE: Deirdre Bolton Explains How 'Elevator Pitch' Isn't Shark Tank; Beating CNBC in the Ratings; and Why She Appreciates John Oliver and Jon Stewart
— —
>> Follow Andrew Kirell (@AndrewKirell) on Twitter
Have a tip we should know? tips@mediaite.com