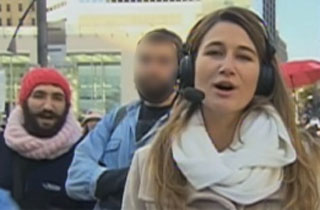 Even though the first one was a hoax, the phrase "fuck her right in the pussy" has turned into a meme in and of itself, with people shouting it during news broadcasts, in the middle of sports broadcasts, even placing it on signs.
However, they've also screamed the phrase at female journalists, two of whom spoke out today against the prank, calling it unoriginal and threatening towards women.
Reporter Morgan Dunlop wrote an op-ed for the CBC, which tastefully edited the phrase to "FHRITP", arguing that it intimidated women and would hurt their careers:
You are not advancing an organic movement. You are copying what one guy set up as a spoof. We can see your face and hear your voice and so can your girlfriend, your sister, your mother, your daughter.

It's not funny. It makes women feel uncomfortable. You make women feel uncomfortable.

At the risk of this story encouraging pranks on reporters, can we think of something new to yell?
Tanya Birkbeck agreed on many of the same points, adding that she wasn't afraid of speaking out:
It's violent and offensive. It suggests that a woman who is doing what can be a pretty serious and intellectually rigorous job can be reduced to simply a sexual object which can be taken at will.

Now I realize that this could come across as overly earnest, a sour woman who just can't take a joke.

But if we've learned anything in recent weeks, following the global #BeenRapedNeverReported campaign, it's that women will put up with a lot without saying anything.

Sometimes we just have to speak out and say something is really not acceptable.
The creator of the video, John Cain, told the CBC that he had no idea that the video would go viral, and added that male reporters were also victims of the FHRITP prank. "It is not an attack on women in any way. In fact, I love women and I would FHRITP all of them if they wanted," he added.
[CBC]
[Image via CBC/Screenshot]
—
>> Follow Tina Nguyen (@Tina_Nguyen) on Twitter
Have a tip we should know? tips@mediaite.com