Limbaugh Hits CNN for Cosby Rape Coverage: 'It's Not Like He Did It Yesterday'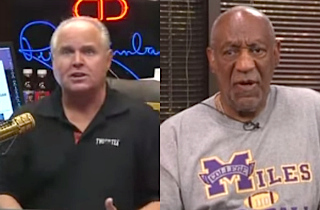 The past few weeks have seen an escalation of media interest in decades-old rape allegations against Bill Cosby, culminating in a Washington Post column and CNN appearance by one of his many accusers, Barbara Bowman, yesterday. But while there are several factors that have spurned this renewed coverage, including the release of a new biography
and jokes by comedian Hannibal Buress, Rush Limbaugh sees something more sinister at work.
"It looks like they're trying to destroy Bill Cosby," Limbaugh said, acting as an unlikely defender of the comedian. "CNN has decided to adopt this story and make it the number one cause célèbre of the day."
"What did Bill Cosby ever do to tick off some producer at CNN? Or some reporter? Or some assignment? What happened here?" Limbaugh asked. "And then I had to stop and remember, Bill Cosby has numerous times in the recent past given public lectures in which he has said to one degree or another that black families and communities had better step up and get hold of themselves and not fall prey to the forces of destruction that rip them apart. And basically he started demanding that people start accepting responsibility. And the next thing you know he is the nation's biggest rapist as far as CNN is concerned."
"It's not like he did it yesterday," Limbaugh said of Cosby's alleged rape allegations.
So, according to Limbaugh, the real reason CNN is covering the Cosby story is because they are liberals who disagree with statements he has made in the past about the African-American community and personal responsibility. One potential problem with that theory: CNN's Don Lemon has been known to make nearly identical statements.
The host did however admit to finding some of the Cosby memes on Twitter funny.
Listen to audio below, via The Rush Limbaugh Show:
And watch last night's segment on one of Cosby's accusers below, via CNN:
[h/t MMFA]
[Photo via screengrab]
— —
>> Follow Matt Wilstein (@TheMattWilstein) on Twitter
Have a tip we should know? tips@mediaite.com