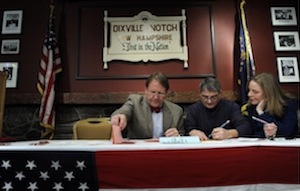 Jon Huntsman and Mitt Romney tied when voters in Dixville Notch, New Hampshire, cast the first ballots in the New Hampshire primary just after midnight on Tuesday.
According to the Washington Post's Ann Gerhart, "Mitt Romney and Jon Huntsman tied, with two votes each. Newt Gingrich and Ron Paul each got one vote. President Obama received his very first live votes of confidence — three of them."
RELATED: Goat Bites Jon Huntsman During New Hampshire Campaign Stop
"Is Dixville Notch a harbinger of things to come?" Huntsman said on MSNBC's Morning Joe. "I gotta believe it is!"
Pundits were quick to pour cold water on what otherwise was a promising start for the former Utah governor. Fox and Friends pointed out that only 12 of 75 eligible voters cast ballots. The New York Times' Nate Silver was skeptical of what the first vote really meant, tweeting, "Things less useful than Dixville Notch for making predictons: 1) The BCS formula; 2) A Zogby Interactive poll."
The Washington Post reports Romney won Hart's Location, followed closely by… Ron Paul:
In Hart's Location, another village that traditionally votes minutes after Dixville Notch, Romney was a clear winner. There, the former Massachusetts governor took five votes to four votes for Paul. Huntsman took two votes, Texas Gov. Rick Perry took one and Gingrich took one.

New Hampshire election law permits unincorporated towns of fewer than 100 residents to open for polling at midnight, and Dixville Notch has done so since 1960, at The Balsams Grand Resort Hotel high in the North Country, about 20 miles south of the Canadian border. There were nine votes cast that year, too, all for Richard Nixon.
According to New Hampshire's WMUR, this was the first time a tie occurred in Dixville Notch.
Have a tip we should know? tips@mediaite.com