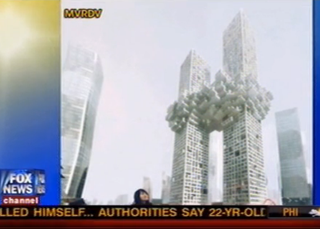 Does this architectural design look too much like a cloud of smoke joining the two towers of the World Trade Center? The weekend crew at Fox & Friends showed their audience a design for a proposed complex in Korea that looked eerily like the Twin Towers, connected by a cloud of smoke design that served as a footbridge. While the firm responsible apologized, it is not scrapping the project.
The anchors noted that the architectural firm that designed the building has apologized, issuing a statement saying "it was not our intention to create an image resembling the attacks nor did we see the resemblance during the design process," and "sincerely" apologizing. Despite the apology, however, they are not canceling the plans to build the structure, which made the statement, according to anchor Juliet Huddy "a patronizing thing to say." "There's nobody on the planet who looks at that and doesn't see," she argued, the Twin Towers collapsing.
RELATED: Tony Bennett Apologizes For Suggesting 9/11 Was Caused By American Foreign Policy
Fellow anchor Dave Briggs agreed, adding that "the only thing missing is a plane," and noting the fact that the plaza design for this structure was created by the same person who designed the new World Trade Center, which is "the most amazing coincidence you've ever heard."
It is an amazing aesthetic coincidence, and the apology, while better than nothing, is hard to take seriously now that they are aware of the problem. Which brings up the question: if this is, indeed, an artistic expression modeled after 9/11, is it inherently offensive?
The segment via Fox News below:

Have a tip we should know? tips@mediaite.com