Fox & Friends Gets Geraldo to Pretend He's Obama and Condemn Ferguson Shootings the 'Right' Way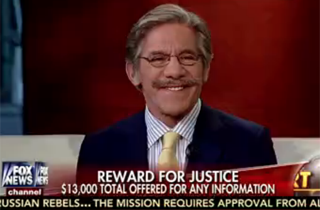 For once, Geraldo Rivera and the Fox and Friends crew found themselves in the strange position of praising Attorney General Eric Holder for his tough response to the men who shot two Ferguson, Mo., police officers.
Holder called the shooters "damn punks," and Rivera, no stranger to street talk himself, agreed. "In the parlance of the street when you call someone a punk, you really do diminish their manhood or any kind of righteous justification they may have," he said. "You absolutely paint them with the proper brush. They are lower than low-lifes. They are punks. They are not worthy of consideration. The crime was a heinous crime. Holder really surprised me. I did not expect it, particularly in light of the scathing Justice Department report on Ferguson and the police department.
"That's a low bar, if you'd expect the attorney general to condemn brutally," Brian Kilmeade responded.
Barack Obama, however, did not parlance the streets very well, and Geraldo hit him for his response to the Ferguson ruling, in which he described the protesters as having "legitimate grievances" on Jimmy Kimmel Live!. "When you are declaring war on people whose job is to keep law and order, you are challenging civilization itself," he argued, saying that Obama's response has "got to be much more firm, much more equivocal."
Geraldo then got asked to imagine his response if he were president, and, yep, he had Ideas:
All right. i'll give it to you. "Put aside whatever legitimate grievance may exist in ferguson and other cities. Put that aside. This crime cannot stand. This assault on our officers cannot stand. This is an assault on –" you use the language of ISIS. When you are condemning someone attacking our cops, you have to be — use war language. "We must stop this." "We must hunt them down." "This cannot stand." "We will not abide it." "I stand shoulder to shoulder with every man and woman in blue," and that would be great.
Watch below via Fox:
[Image via screenshot]
—
>> Follow Tina Nguyen (@Tina_Nguyen) on Twitter
Have a tip we should know? tips@mediaite.com