Fox Ignores NFL Players Kneeling During National Anthem During Live Broadcast
Given the ongoing rhetorical debate between President Donald Trump and NFL players who are kneeling during the national anthem in protest of racial inequality, all eyes were on the pregame festivities at this morning's first NFL game played at London's Wembley Stadium between the Dolphins and Saints.
The controversy has been a remarkably effective wedge issue for the Trump administration, who seem to have successfully made this a debate about patriotism (and to a lesser extent free speech), ignoring the stated reasons that Colin Kaepernick — and others that have followed — gave for kneeling: oppression of people of color in the United States.
Given the billion dollar relationship between the NFL and its broadcast partners (which include every major television broadcaster CBS, Disney/ABC/ESPN and Fox Broadcasting), one can reasonably wonder what discussions went on behind the scenes in trying to take some air out of this controversy, which many see puts the NFL in a tough position (which is ostensibly the hallmark of any effective protest, by the way).
So what happened? As you can see in the video above, Fox opened their broadcast of the national anthem showing arm-linked Saints kneeling, then standing for the national anthem. This appears to be confirmed in the following tweet from SB Nation:
The Saints kneeled before the national anthem, then stood as it played. pic.twitter.com/Q6QxJXIf86

— SB Nation (@SBNation) October 1, 2017
But it also appears that three members of the Miami Dolphin continued to kneel for the National Anthem. The director of the broadcast chose not to focus on this protesting trio — which is different than how this story has been covered in the past (especially last weekend) — but a wide shot clearly shows the three kneeling. A screen cap of that moment is below.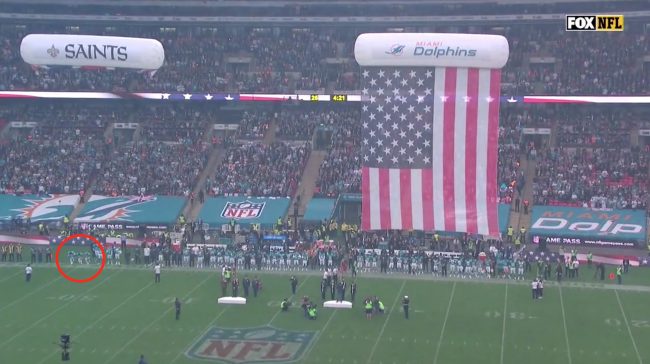 So was there a specific direction from the NFL to not feature protesting players? Given the tough week of public relations they've endured by some for this past week (and a larger trend of decreased ratings) it would certainly make sense. And there is nothing inherently wrong with NFL and television executives choosing to deemphasize the protests and change the narrative.
But…this will certainly keep the story alive and only bring more attention to how other NFL teams act on the sidelines in later games today and in the weeks to come.
Watch the clip above, courtesy of Fox Sports.
–image via screen capture–
Have a tip we should know? [email protected]