Grilled On AP Phone Records Seizure, Holder Claims He Is 'Not Familiar' With The Details Of The Case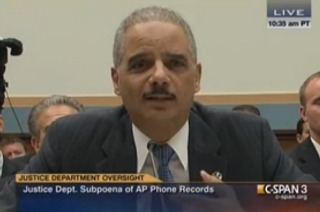 During testimony before a Congressional committee on Wednesday, Attorney General Eric Holder repeatedly informed a panel of congressional representatives that he is unfamiliar with many of the details relating to the Department of Justice's decision to obtain two months of phone records from the Associated Press. He said, due to his recusal from the case, he was unable to answer most of the questions he was asked relating to that case.

Rep. Bob Goodlatte (R-VA) asked Holder for background on the Justice Department's decision to obtain two month of phone records from the Associated Press. "Why was such a broad scope approved?" Goodlatte asked.
RELATED: Scarborough Goes Off On Axelrod For 'Bogus Argument' Over AP Probe: 'Don't Shift This To Me!'
"Yeah, there's been a lot of criticism," Holder replied. "In fact, the head of the RNC called for my resignation in spite of the fact that I was not the person who was involved in that decision."
"I was recused in that matter," Holder added. "The decision to issue this subpoena was made by the people who are presently involved in the case."
"I am not familiar with the reasons why the subpoena was constructed in the way that it was because I'm simply not a part of the case," he concluded.
Goodlatte asked why the DoJ did not ask the AP for their phone records as is customary. "There are exceptions to that rule," Holder replied. He noted, however, that he is unfamiliar with the process that his department engaged in before obtaining those records. "I simply don't have a factual basis to answer that question," Holder said.
Watch the clip below via C-SPAN 3:
> >Follow Noah Rothman (@NoahCRothman) on Twitter
Have a tip we should know? tips@mediaite.com