Hannity Panel Battles Over Jamie Foxx Calling President Obama 'Our Lord And Savior'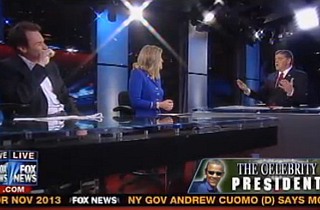 The final segment of tonight's Hannity focused on Jamie Foxx's Soul Train Awards comment that President Barack Obama is "our lord and savior." Comedian Paul Mercurio was brought on to defend Foxx's comments, while conservative radio host Mary Walter took great offense to the quip.
Naturally, as a hardline conservative, host Sean Hannity was deeply disturbed by Foxx's comments, calling them a "reminder of how obsessed left-wing celebrities really are with President Obama."
Hannity pushed Mercurio to defend the Foxx comments, by reminding the comedian that he works for Jon Stewart who "worships Obama," which prompted Mercurio to joke that he's just Stewart's warm-up show "monkey boy."
But nevertheless, he gave a defense of the comments: "I understand how African-Americans, Jamie Foxx, could be very proud…. They're proud of their heritage. Proud Obama is in the White House, and good for them. Yes, it's over the top. He's not our savior. You don't need ObamaCare if you have the ability to cure lepers with a mere touch. If he's the savior he should be able to cure us."
Hannity replied by, once again, pushing Mercurio over his working for Stewart. "Why doesn't he point out the failure?" the host asked.
"I'm not here as a representative," a baffled Mercurio responded.
"You're friends with the guy," said Hannity.
"It's like your staff. I'm not allowed to make eye contact with him," Mercurio joked. "It's the same thing with you."
Radio host Walter took a wildly different take: "Maybe this is a little conspiracy theorist," she said, "I'm seeing something Paul won't see, but it's part of this: the intellectually superior don't need the crutch of religion. Those of us clinging to our guns and religion… we're somehow less evolved. It's about a societal religion as opposed to a church religion, because if the government gives you everything, the government becomes your religion, and he's our leader."
Hannity then brought up Foxx's race, declaring that his and Obama's hyperbolic comments get a pass while Mitt Romney's "47-percent" comments became a media frenzy.
Watch below, via Fox:

— —
>>
Follow Andrew Kirell (@AndrewKirell) on Twitter
Have a tip we should know? tips@mediaite.com