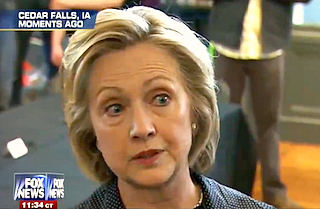 After almost one month of avoiding the press entirely, to the point that major publications have taken to openly shaming her, 2016 Democratic frontrunner Hillary Clinton took a handful of questions Tuesday.
The Q&A — her first in 28 days — followed a meeting in Cedar Rapids, IA on small businesses, which was interrupted by a question from Fox's Ed Henry on why Clinton won't take questions. Clinton fielded queries on her wealth, her emails, her communications with an old business partner on Libya, the Trans-Pacific Partnership trade deal, and her Iraq War vote.
As for that vote, Clinton reaffirmed it was a mistake, but argued that the battle against ISIS to preserve national integrity was something the Iraqi people would have to effect themselves, albeit with U.S. support.
Clinton also reiterated her call for the State Department to expedite the release of her emails, which a federal judge ordered them today to do in a rolling release, though she said she had no ability to actually influence the review process.
"I have said repeatedly I want those emails out," Clinton said. "Nobody has a bigger interest in getting them released than I do…I want the american people to learn as much as we can to learn about the work we did…I think it will show how hard we worked and the work we did."
Clinton was also asked about the Benghazi Select Committee's likely subpoena of former Clinton aide Sidney Blumenthal, who reportedly emailed unreliable intelligence about Libya around the fall of Muammar Qaddafi, even as he had involvement with both business interests in Lebanon and Clinton' political prospects.
Clinton dismissed the emails as unsolicited, and said she passed on some from time to time, a passive framing contradicted by the New York Times' reporting of the incident.
"I have many, many old friends," Clinton said. "It's important when you get into politics to have friends you had before you were in politics…When you're in the public eye, you do have to work to make sure you're not caught in a bubble and only hear from a small group of people. I'm going to keep talking to my old friends, whoever they are."
Watch the clip below, via Fox News:
[Image via screengrab]
——
>> Follow Evan McMurry (@evanmcmurry) on Twitter
Have a tip we should know? tips@mediaite.com