'I'm Not Opposed to All Jews': David Duke at a Senate Debate Went About How You'd Expect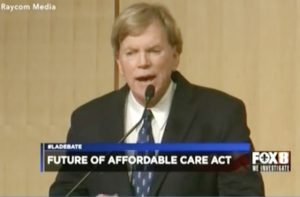 From the "Well, what did you think was gonna happen" department, things really got crazy at a Senate debate tonight that David Duke was allowed to participate in. (He has enough support in the race to qualify.)
In the first few minutes of the debate, Democratic candidate Caroline Fayard called him a bad guy and a snake who has "slithered out of the swamp."
In response, Duke mockingly observed, "Yeah, I'm the bad guy because I defend the people of this country that made our country great."
It didn't take long for him to pick a fight with the moderator. As he was talking about taxes, the moderator jumped in to ask him a follow-up and Duke blew up at him. The moderator attempted to ask him about being targeted years ago by the feds for tax fraud.
Duke exploded and cried, "You're not a moderator, you're a typical media hack!"
The moderator tried to move on, and Duke shouted, "You're gonna silence me?! You're gonna prevent me from answering the question because you wanna make a point?!"
Oh, and around the midway point, the moderator asked him about him going after "CNN Jews" for covering Donald Trump's past remarks about grabbing women.
Not only did Duke literally say the words "I'm not opposed to all Jews", but he made this declaration:
"There is a problem in America with a very strong, powerful, tribal group that dominates our media and dominates our international banking."
Watch clips from the debate above, via
[image via screengrab]
— —
Follow Josh Feldman on Twitter: @feldmaniac
Have a tip we should know? tips@mediaite.com
Josh Feldman - Senior Editor