Ingraham Battles George Will, Fox Panel: GOP 'Elites' Pushing Immigration Reform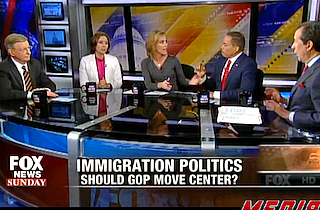 Conservative radio host Laura Ingraham battled the rest of the Fox News Sunday panel over immigration, arguing that immigration reform and current enforcement of immigration laws were weakening the American workforce, even as her fellow panelists countered that reform would bolster the economy.
"I think what we're seeing here is a split inside the Republican Party between two staunch conservatives," host Chris Wallace said, going on to ply Ingraham with a Wall Street Journal editorial that called flinching on reform "de facto amnesty."
"As far as I can tell, the Wall Street Journal is on the side of Nancy Pelosi, Chuck Schumer, Barack Obama, Pat Leahy and La Raza," Ingraham said. "I think they should put down their dogeared copy of Fountainhead and live in the real world…Do we care about American workers at all?"
"You're the one who's arguing the AFL-CIO argument," Will said, noting that the "economic dynamism" aided by immigrants would help sustain the American workforce.
"So why have a border at all?" Ingraham said. "There is no will to enforce the border. There is no faith in this administration to do it. The Republican elites and the Democratic elites agree, and the people are revolting across this country."
Wallace and Juan Williams then challenged Ingraham with the fact that deportations under the Obama administration were at record highs; she countered that Obama's executive order to defer action against undocumented young people in the summer of 2012 belied this argument.
Watch the full clip below, via Fox News:
[Image via screengrab]
——
>> Follow Evan McMurry (@evanmcmurry) on Twitter
Have a tip we should know? tips@mediaite.com