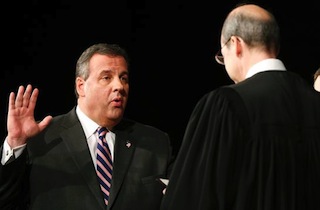 Tom Moran of the New Jersey Star-Ledger editorial board said he got plenty of flak from liberals when his paper endorsed New Jersey Governor Chris Christie for reelection. On Sunday morning he conceded: "We blew this one."
Yes, we knew Christie was a bully. But we didn't know his crew was crazy enough to put people's lives at risk in Fort Lee as a means to pressure the mayor. We didn't know he would use Hurricane Sandy aid as a political slush fund. And we certainly didn't know that Hoboken Mayor Dawn Zimmer was sitting on a credible charge of extortion by Lt. Gov. Kim Guadagno.
Moran said the endorsement wasn't one made lightly, or all that confidently. "Even before this scandal train got rolling, this endorsement was a close call and a split vote among the editorial board," he wrote. "We regard Christie as the most overrated politician in the country, at least until now, a man who is better at talking than governing."
However, Moran cited Christie's progress on education and pension reform, and said that despite the fact that the paper didn't exatly feel super about Christie, it owed its readership an endorsement. "We swallowed our hesitations and endorsed Christie, complete with our long list of deep reservations."
Moran also warned against liberal schadenfraude. Christie, he hypothesized, may one day arise as the most palatable of GOP presidential nominees, while Democrats may see one of their stars (rhymes with Fillary Flinton) felled by scandal as easily as Christie.
[h/t New Jersey Star-Ledger]
[Image via LUCAS JACKSON/REUTERS]
——
>> Follow Evan McMurry (@evanmcmurry) on Twitter
Have a tip we should know? tips@mediaite.com