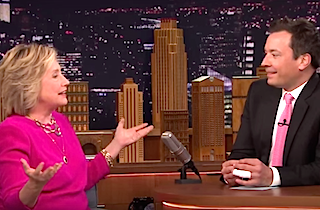 Like Ellen DeGeneres before him, Jimmy Fallon dutifully brought up the controversy over Hillary Clinton's private email server during his interview with the Democratic frontrunner last night. But he did not press her any harder than could have been expected.
"What's in the emails?" he asked. "Can you just say what's in the emails? That's all we want to know! If you'd tell us what's in the emails, we'll get over it!"
Clinton explained that thousands of her emails from when she served as Secretary of State are already out in the open, adding, "Most people have gotten bored after really, you know, like 10 or 12, because they're boring!" She joked that the "most significant" email to come to light was the one about getting gefilte fish into Israel.
When Fallon described some of the emails as "top secret," Clinton reiterated that "nothing that was sent or received at the time was secret," but instead became classified retroactively. "The stuff that's in [the emails], I think is really boring people, which kind of hurts my feelings," she added.
Fallon quickly shifted gears to say, "The headline should be: 'Grandma knows how to use email.' That's amazing!" He then started asking the candidate about her campaign's social media strategy.
RELATED: Whoopi Goldberg: 'I Don't Care' What Hillary Did with Her Emails
No one expects Fallon — or Ellen DeGeneres for that matter — to conduct in-depth inquiries into the nuances of Clinton's emails; that's what someone like ABC's David Muir, who actually got an apology out of Clinton, is for. But ultimately, he's not doing his viewers, or even her campaign, any favors by dismissing the issue so quickly and easily during an actual interview.
It's one thing for Clinton to laugh at herself when she's talking to Fallon's Donald Trump, but it's another to breeze through the problem that has dogged her campaign from the Tonight Show couch.
Watch video below, via NBC:
[Photo via screengrab]
— —
>> Follow Matt Wilstein (@TheMattWilstein) on Twitter
Have a tip we should know? tips@mediaite.com