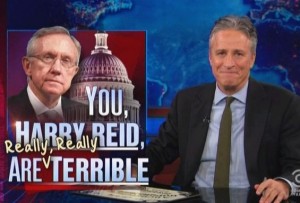 Jon Stewart very thoroughly ripped into Senator Harry Reid for not just claiming that Mitt Romney hasn't paid taxes for ten years without caring about whether it is true or not, but for his unbelievable statement that Romney's father would be "embarrassed" by how his son is running his campaign. Stewart said that if anyone ever admits they don't know if something is true, especially when they say it right after they made the original charge, they should "shut up," and then introduced the title of the segment: "You, Harry Reid, Are Terrible."
RELATED: Jon Stewart Makes Up Hilariously Fake Tax Returns In Response To Romney's Refusal To Release
Stewart said Reid was just throwing around ridiculous speculations that he "pulled out of [his] ass" over Romney's taxes, remarking that wild, irresponsible speculation over what is in Romney's taxes is more the job of a late night comic than a sitting senator.
But, as Stewart noted, "people throw around baseless accusations all the time" in political campaigns without having the facts to back them up. What makes Reid particularly terrible in this case? Stewart highlighted Reid's comment that George Romney would be "embarrassed" for what his son is doing. This led Stewart to make a slight change to the segment title: "You, Harry Reid, Are Really, Really Terrible." Stewart tore into Reid for playing the "dead card."
"As someone who has truly and thoroughly disappointed his still-living father on many occasions, let me just say, that is a bullshit shot."
He spent the next minute mockingly rebutting Reid by pretending to speak to the ghost of Romney's father with an ouija board.
But what also bothered Stewart was how viciously the hosts at Fox & Friends were criticizing Reid for making a claim without presenting the facts to back it up, which struck Stewart as a tad ironic. He ran a montage of the show hosts making similarly outlandish claims, remarking that while Reid is certainly terrible for what he said, "there's lots of terrible to go around."
Watch the segment below, courtesy of Comedy Central:
Have a tip we should know? tips@mediaite.com
Josh Feldman - Senior Editor