Jon Stewart Doesn't Blame Toxic Political Discourse For Arizona Shooting Tragedy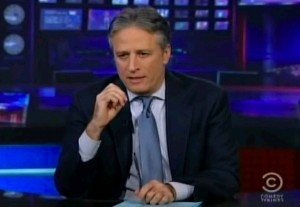 Jon Stewart addressed the tragic events that occurred in Arizona this weekend by asking "How do you make sense of these types of senseless situations?" Giving up on any real attempt at satirical humor, Stewart instead taking a meaningful, measured and earnest approach to the current political finger pointing over the incident, which he called "as predictable as it is dispiriting." While Stewart didn't blame toxic discourse, he did seek a distinction "between ramblings of crazy people and the way we talk to each other on TV."
While Stewart made the clear point that the actions of the assailant in Arizona were not caused by "vitriolic rhetoric" as some have implied, he did remind us of the inherent responsibility of those involved in the political debate, saying:
I do think that its important for us to watch our rhetoric, I do think that its a worthwhile goal not to conflate our political opponents with our enemies if for no other reason than to draw a better distinction between the manifestos of paranoid mad men and what passes for acceptable political and pundit speak. It would be really nice if the ramblings of crazy people didn't in any way resemble how we actually talk to each other on TV. Let's at least make troubled individuals easier to spot.
These sorts of situations can be very challenging for a late night comedian; an earnest attempt at analysis by an individual more versed in satire is a dangerous position, very often resulting in maudlin cliches. But that isn't the instance here, as Stewart reminds his audience why he is so adored, and added a sober, measured and restrained tone in his commentary. A refreshing change from much of the other cable news fodder that has followed this tragedy.
Watch the clip from Comedy Central below:
Have a tip we should know? tips@mediaite.com