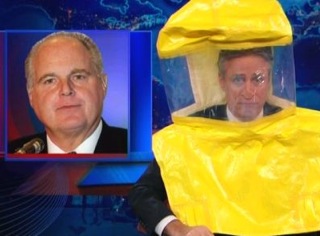 The story of how Rush Limbaugh called Sandra Fluke a "slut" because she wants the government to make religious institutions provide insurance for contraceptives has had an unexpectedly powerful corrupting influence, because someone said the word "slut" and we are a nation of 13-year-old boys. And as a story that has sex, Rush Limbaugh, cable news people acting totally insane, and Mitt Romney saying something weirdly distant and wrong, Jon Stewart was all over it.

RELATED: Report: Second Radio Station Drops The Rush Limbaugh Show
Stewart began by warning people who usually had sex during the Daily Show to just not watch tonight, because Rush Limbaugh was on. After playing his comments, he marveled at them for some time. "What is going through Rush Limbaugh's fevered mind?" There were so many errors, Stewart noted: "he seems to believe that anyone on birth control is automatically having a ton of sex… [that] contraception is something a woman has to pay for every time she has sex." Stewart also added that the shock about his comments appeared disingenuous in some ways, since Limbaugh "is and has been for many years a terrible person." After making fun of the Republican candidates brushing it off in the most bizarre ways (like Romney saying that his objection was only to the word choice), he looked at the fact that the right didn't oppose the subject of the comments. "Who do they not believe that reasoning is wrong? Because they think the same thing," he explained, showing a number of Fox News personalities arguing the same thing more eloquently than Limbaugh.
"Everyone pays for shit they don't want all the time," Stewart noted, demanding a reimbursement for the Iraq War and oil subsidies." He concluded the extended segment with a final swipe at Megyn Kelly for being against insurance coverage for contraceptives when her defense of maternity was so fierce in recent times.
The segment via Comedy Central below:

Have a tip we should know? tips@mediaite.com