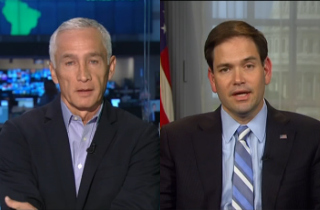 One day after he confirmed to CNN's Jake Tapper that he believes marriage should be between one man and one woman, Sen. Marco Rubio (R-FL) went on Jorge Ramos' Fusion show where the host confronted him on the issue using a new angle.
"If someone in your family or your office that happens to be gay and they invite you to their wedding, would you go?" Ramos asked the senator.
"If there's somebody that I love that's in my life, I don't necessarily have to agree with their decisions or the decisions they've made to continue to love them and participate in important events," Rubio said. He compared it to attending "second marriages," which are not strictly allowed the Catholic faith.
"If it's somebody in my life that I care for, of course I would," Rubio reiterated on the question of attending gay weddings. "I'm not going to hurt them simply because I disagree with a choice they've made or because I disagree with a decision they've made, or whatever it may be."
"Ultimately, if someone that you care for and is part of your family has decided to move in one direction or another or feels that way because of who they love, you respect that because you love them," he concluded. Again, he compared the union of a same-sex couple to the divorce of a straight one. "If someone gets divorced, I'm not going to stop loving them," he said.
RELATED: Gay Couple Featured in Hillary Ad Invites Her to Their Wedding
Does this mean he would "respect" the supposed "decision" of a loved one to marry their same-sex partner, but not the millions of other LGBT Americans he doesn't know? One has to wonder: If there is a loved one in Rubio's life who is gay and might want to get married someday, what must they think of his anti-gay marriage rhetoric?
Watch video below, via Fusion:
[Photo via screengrab]
— —
>> Follow Matt Wilstein (@TheMattWilstein) on Twitter
Have a tip we should know? tips@mediaite.com