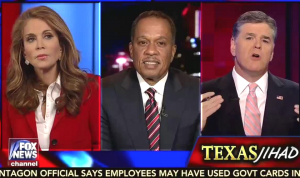 Pamela Geller has been making lots of media appearances this week after her "Draw Muhammad" cartoon contest was targeted by two gunmen. She has been very passionately standing up for free speech, but not everyone thinks that's the main issue here. Case in point, when Geller was on Sean Hannity's show tonight, Juan Williams accused her of being more in the business of self-promotion.
Williams made it clear he absolutely believes in free speech and Geller's right to hold that contest, but compared her to a "pyromaniac" who lights fires to see how long it would take for the fire department to show up. And beyond that, he argued that other people who have been targeted by radical Muslims, like Salman Rushdie, were not "intentionally trying to provoke this reaction."
RELATED: Ingraham Grills Geller: Why 'Go Out of the Way to Offend a Billion Muslims'?
Geller fired back that she's not being incendiary, ISIS is, especially when they burn a Jordanian pilot alive. Williams said he was targeted because he was fighting a war, but Geller replied, "I'm fighting a war for free speech, and you are imposing Sharia."
That set Williams off, and he pretty bluntly told her, "I think you are about self-promotion, Pam Geller! You are not about the cause of free speech!"
From there, Williams kept arguing she's hurting their cause and Geller kept accusing Williams of "enforcing Sharia law" by making her the bad guy.
Watch the video below, via Fox News:
[image via screengrab]
— —
Follow Josh Feldman on Twitter: @feldmaniac
Have a tip we should know? [email protected]
Josh Feldman - Senior Editor